There's nothing worse than splashing out on a hugely expensive engagement ring only to be dumped before you can drop to one knee. When such tribulation was bestowed upon Halo fan Eric Smith, though, the traumatised chap wasted no time toughening up.
Smith flogged the lucrative piece of jewellery and bought himself a full body suit of Master Chief armour. Sure showed her.
After finding an eBay buyer for the ring, Smith's bank balance brought a smile back to his face. But in order to move on properly, he decided it had to be spent. All of it.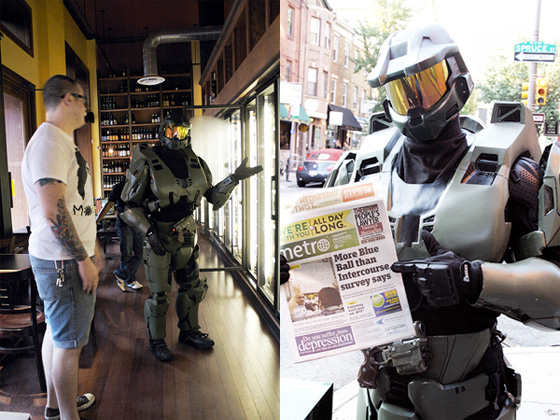 As he'd already been musing over the idea of Halo armour for years, it was a no brainer. Smith forked out for the Master Chief suit, forty pounds of dark green fibreglass and steel, custom built by an artist near Detroit.
Meanwhile, the golden-visored helmet was imported from a Stormtrooper armour specialist in the Philippines. There's no mention of exactly how much was spent, but white gold rings fitted with canary-yellow diamonds aren't exactly cheap.
Smith amusingly tells the full story of his adulterous ex-girlfriend and long time obsession with acquiring Halo kit over on culture site Bygone Bureau.
By the sounds of it, he's adopted an entire alter-ego within his suit, and friends have questioned his psychological reasons for wanting it. Still, if it helps you recover from the devastating experience of a broken heart, what does it matter?
I doubt it'll help him find a new romance, though. Still a nice story to tell your imaginary grandchildren, I guess. ®