The first private-sector mission to carry supplies to the International Space Station (ISS) has been delayed, according to reports. Meanwhile NASA funding for such contracted-out missions is to be cut back.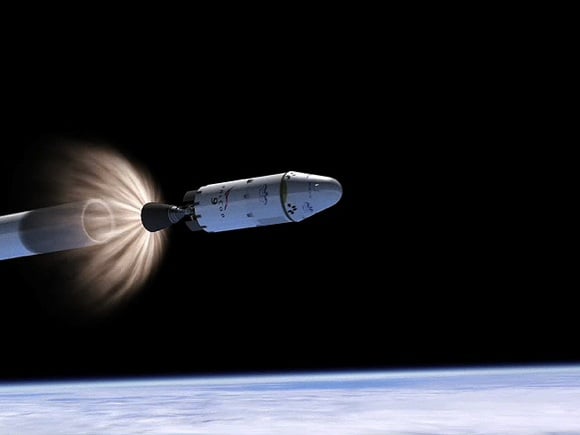 Not happening again until next year, it seems.
The Wall Street Journal reports on the problems facing the nascent US space-launch private sector, saying that the mould-breaking startup rocket firm, SpaceX, now doesn't expect to send its first supply ship to the ISS until well into next year - perhaps as late as April. The launch had been expected before the end of this year.
According to the WSJ's sources, the delays are the result of engineers needing to modify control software aboard the Dragon capsule which is intended to dock automatically with the ISS to deliver a load of supplies to the orbiting station. The Dragon would be launched atop a Falcon 9 rocket stack, also supplied by SpaceX.
The Dragon/Falcon 9 combo has already had a successful test flight last October, though on that occasion the capsule re-entered atmosphere to splash down in the Pacific: and it carried only a large cheese rather than a load of supplies. The trial was the first ever orbital launch and recovery by a private entity as opposed to a national government.
SpaceX's rockets are new designs, developed from scratch, and they run on kerosene fuel. The established US rocketry base, run by a monopoly consortium of America's two biggest aerospace companies (Lockheed and Boeing, teamed as United Launch Alliance) in partnership with NASA and the US military/intelligence community, mostly uses or intends to use older technology and tends to favour cryogenic hydrogen fuel - especially for manned missions of the future.
The huge workforces associated with NASA and ULA and their legacy 1960s technology, combined with the difficulty and cost of using hydrogen as opposed to comparatively easy-to-handle kerosene, have meant that SpaceX can offer hugely lower launch costs - and that it presents a terrible threat to a lot of American jobs. This in turn means that it faces powerful political opposition in Washington.
Unsurprisingly then given the general need for the US government to cut spending, the WSJ also reports that NASA funding intended to hire commercial firms - realistically SpaceX is the main contender - to carry astronauts as well as cargo to the station is likely to be cut. SpaceX and its famous techbiz-visionary chief Elon Musk have never made any secret of the fact that they aim to carry people as well as stuff to space, and the company contends that the Dragon is fully "man-rated" as it stands.
Provided that Musk can continue to make good on his promises, money spent on SpaceX rockets should deliver a lot more lift than money spent on ordinary NASA/ULA projects. Commercial space funding should not be cut if the aim is really to save money: rather it would make more sense to get rid of fantastically costly and questionable efforts such as the planned Space Launch System, a massive rocket based on recycled Shuttle and Apollo-era hydrogen technology which looks set to swallow up so much cash that NASA will be able to afford almost nothing else.
But politically it would be better if federal cash turned not into lift, but into jobs - and this is where ULA is a better buy than SpaceX. So it seems quite plausible that commercial-space budgets will take a disproportionate share of the NASA cuts now being deliberated upon.
The WSJ report is here (partial paywall in force). ®