Text messaging has long been derided for diminished linguistic skills and increased profanity, especially among yoof.
In a bid to tackle the issue, officials in Pakistan have forced mobile operators to block all texts that feature specific offensive words.
The country's telecoms regulator, the Pakistan Telecomminication Authority, has produced a list of more than 1000 words and phrases that operators must look out for, The Guardian reports.
We're not just talking F-bombs, C-nuts and other usual suspects. Seemingly inoffensive words such as "flatulence", "deposit" and "fondle" are also on the censor's list. Residents better not brag about playing with their fondleslabs over there, then.
Obscure phrases like "flogging the dolphin" and "pocket pool" have been barred too, along with terms like "strap-on", "crotch-rot" and "beat your meat".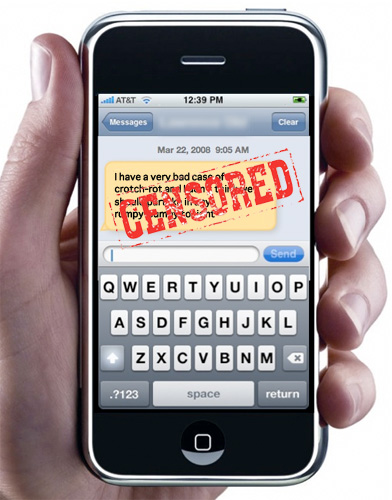 Watchdog director Muhammad Talib Doger wrote to the country's various mobile operators insisting "the system should be implemented within seven days... and a report submitted to PTA on monthly basis on the number of blocked SMSs".
Attached to the letter was a list of 1109 English phrases - and 586 more in Urdu - which the PTA wants banned. Even more are apparently facing the chop in the near future. WTF?
While it will be hard to completely restrict the use of every phrase, operators expect fines should they not comply.
It's probably about time the folk in Pakistan started downloading the Viz Profanisaurus app. Surely the watchdog will struggle to stop people asking if the wife fancies a "Dutch oyster" later as one's "trouser truncheon" needs a good "snake charm". You never know, though. ®