This article is more than 1 year old
Nikon 1 J1 interchangeable lens compact camera
Late to the party and making a scene
Review Somewhat late to the game, Nikon has finally released its Nikon 1 range of compact, mirrorless cameras which use a new CX-format sensor and a range of interchangeable lenses.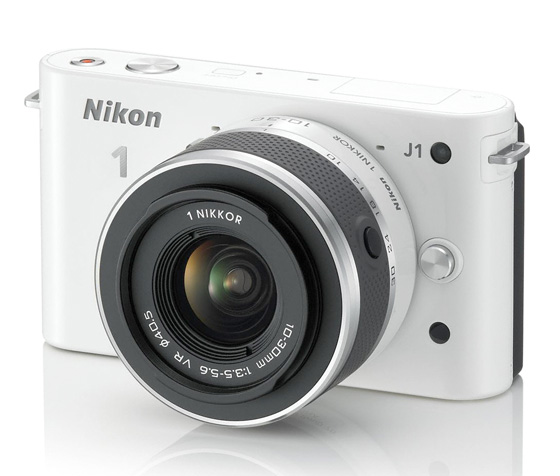 The J1 model is currently the entry-level Nikon One camera
The Nikon 1 range currently comprises V1 and J1 variants. Excellent build quality and high price place both firmly at the luxury end of the market, but it's the smaller J1 which is the subject of this review. While the cameras share a mostly identical set of features, the J1 offers a lower resolution screen, loses the V1's electronic eye-level viewfinder and multi-accessory port, but gains a built-in popup flash. The J1 also lacks the mechanical shutter found on the bigger model.
Not having an electronic viewfinder may not bother some users and the lack of multi-accessory port means you can't take advantage of the external flash or GPS modules designed for the Nikon 1 system. However, these relatively minor differences will save you almost £300 making the J1 considerably better value for money.
Yet another format: Nikon's CX sensor has a 2.7x crop factor
Both models offer speedy operation, a super-quick start-up time and fast multi-point autofocus as well as the ability to capture full-resolution images at up to 60 shots per second. A pre/post capture system allows the J1 to start capturing images before you fully press the shutter button and then continue afterwards. These incredibly fast frame rates are matched with a buffer large enough to accommodate up to 100 shots.
This isn't a new idea: my Sony DSC-F1 could do this in 1996 albeit with VGA-resolution images, but the J1's Smart Photo Selector mode is able to automatically analyse and compare twenty such shots, picking the best five for you based on facial expression, composition and focus.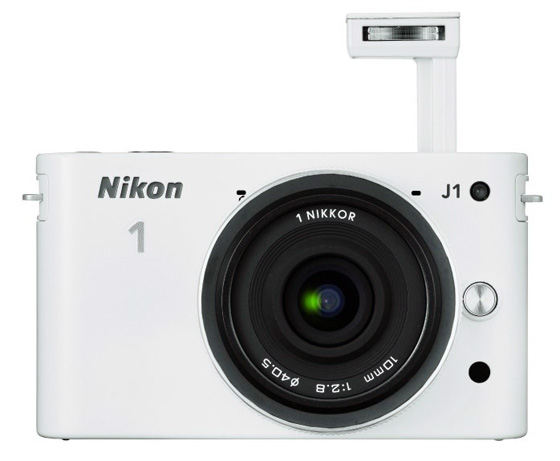 Built-in flash but the J1 has no sync contact for external guns
Another unique feature is the camera's Motion Snapshot mode, which combines a one-second slow-motion clip of video with each photo, complete with incredibly cheesy music composed to evoke feelings of "Beauty", "Waves", "Relaxation" or "Tenderness". It's a fun feature, but more often than not, this gimmick results in an unexpectedly hilarious juxtaposition. Also available is HD video recording at resolutions up to 1080p at 30fps with additional slow-motion modes available which capture at 400fps or 1,200fps.