Southampton hampton vice shocker: Exclusive snap
Todger, ring, firemen, camera, lights, action...
---
The eye-watering story last week about the Southampton bloke who got his wedding tackle trapped in a metal ring prompted the usual reader calls for photographic proof of the todger vice ordeal.
To recap, the victim of the spam javelin mishap had to be freed by fireman from his ill-advised stiffie enhancer, after Southampton General Hospital docs failed to pull it off.
Obviously, the case of a very embarrassed chap with his penis trapped in a metal ring required sympathy, delicate handling, and above all discretion.
Quite remarkably, El Reg's roving reporter just happened to be in the hospital at the time*, and was able to exclusively record just how discreetly the matter was handled. Click on the pic for a bigger version and read on...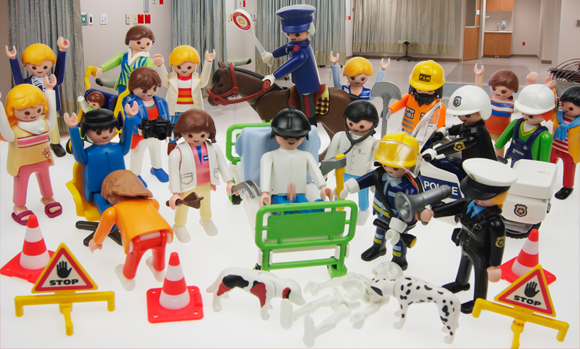 As you can see, doctors have been unable to tease out the trapped tumescence, and have called for emergency service intervention. Given the seriousness of the incident, the fire brigade and police have responded with lightning speed, dispatching all available forces to the scene.
Here we have a concerned fireman considering whether his chopper is up to the job, while traffic and mounted cops, backed by dogs teams, throw an improvised cordon around the patient.
A couple of local builders are on hand to offer support, should the fire brigade's tools prove inadequate, while the hospital's head of surgery attempts to capture the action for his private privates collection.
Mercifully for the patient, he's hampered in his efforts by excited members of the female staff, jostling to cop an eyeful of excited member.
In case you're wondering, the geezer on the left sitting in a chair is hoping that someone will detach his drunken girlfriend's teeth from his scrotum, but since A&E staff have classified his 'nad sack injuries as "not as entertaining" as the main event, he could be in for a long wait.
Police mutts, meanwhile, are helping themselves to the remains of a patient who popped in for a quick flu inoculation last year, but died of old age waiting for staff to work their way through a backlog of pork sword shockers. ®
Bootnote
*For the record, he was investigating a perfectly legitimate lead on exploding Bulgarian airbags.
Related stories
You can find our previous Playmobil tomfoolery right here.