This article is more than 1 year old
DARPA boffins develop unfeasibly light metal fluff-structure
Nano-nickel wonder stuff bar can rest atop a dandelion
Boffins at California's HRL Laboratories have developed what they claim is the world's lightest material, a nickel structure that is a hundred times lighter than styrofoam.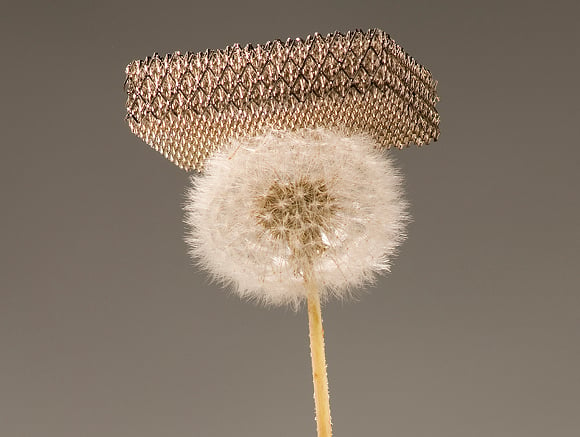 World's lightest material Credit: Dan Little for HRL Laboratories
Working with colleagues from the California Institute of Technology and the University of California, the researchers produced the substance using a fabrication process developed by HRL senior scientist Dr Alan Jacobsen.
The team was able to make a material that was 99.99 per cent open volume by designing the 0.01 per cent solid at the nanometre, micron and millimetre level, the Lab said in a statement on the project.
"The trick is to fabricate a lattice of interconnected hollow tubes with a wall thickness of 100 nanometres, 1,000 times thinner than a human hair," said lead author Dr. Tobias Schaedler.
The resulting nickel matter has a density of just 0.9 milligrams per cubic centimetre.
Dr Bill Carter, manager of the Architected Materials Group at HRL, said the scientists took ideas from the ways large structures are made.
"Modern buildings, exemplified by the Eiffel Tower or the Golden Gate Bridge, are incredibly light and weight-efficient by virtue of their architectures. We are revolutionising lightweight materials by bringing this concept to the materials level and designing their architectures at the nano and micro scales," he said.
Manipulating the material's cellular architecture also makes the material behave very differently from ordinary metals. Even if the stuff is squished down to half its height, it bounces back into shape and it also has "extraordinarily high" energy absorption.
The boffins, who developed the material for DARPA, envision it being used for a variety of purposes, including thermal insulation, battery electrodes and sound-proofing.
The full results of their research are behind a paywall on Science here. ®