This article is more than 1 year old
Ten... noise-cancelling headphones
Ditch that din
Product Round-up Based on technology developed in the 1980s for airline crews, noise cancelling headphones are getting better every year. They are no longer luxury items but essential for frequent travellers, making journeys more tolerable.
Built-in microphones detect extraneous sound, such as aircraft engine hum or noise from trains and buses. The headphones actively reduce the noise by emitting a counteracting waveform. Almost all use a AAA battery, on average providing about 40 hours of use.
In-ear headphones offering greater sound isolation get you off to a good start, while over-ear designs may improve soundproofing with padded ear cups. Extras to look for include cabling with an in-line mobile phone microphone, volume controls and a monitor or 'talk-through' button if you need to mute sound and cut noise cancellation briefly.
Audio-Technica ATH-ANC23

The main issue with in-ear headphones is that a proper fit depends significantly on your own ears. For me this pair was not as comfy as the others. The features are standard: a AAA battery housed in a control unit plus volume adjustment, but no phone mic or monitor mode. Its noise cancellation is agile at reducing background hubbub and it works as a normal pair of headphones with cancellation off. Sound quality is well pronounced but it tends to be cold and clipped as opposed to rich and resonant. Its springy wires also cause the ear-bud mics to interpret head movements as 'noise' to try and cancel out, causing distortion.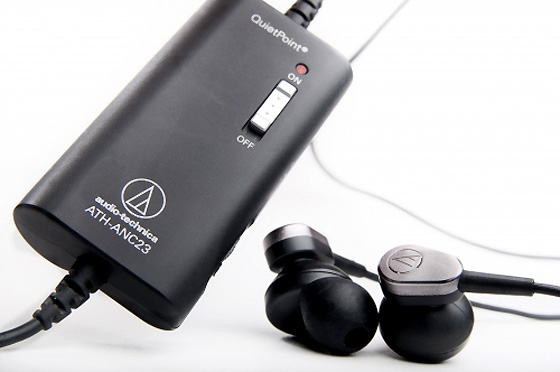 Blackbox M16

If you're not committed to travelling light, these chunky, over-ear headphones wipe out most exterior sound even before noise cancelling. They also work as standard headphones without cancellation being on. When you do activate it, the worst of the outside world's sonic distractions are lifted largely away. A single AAA battery fits inside the right ear can. There's no talk-through button but the removable cable includes volume controls and a phone mic (a rare feature). Audio quality is good overall. Its characteristics change subtly when cancellation is on – not better or worse – just different. The bass is strong without being overbearing, while vocals and higher notes are light and airy.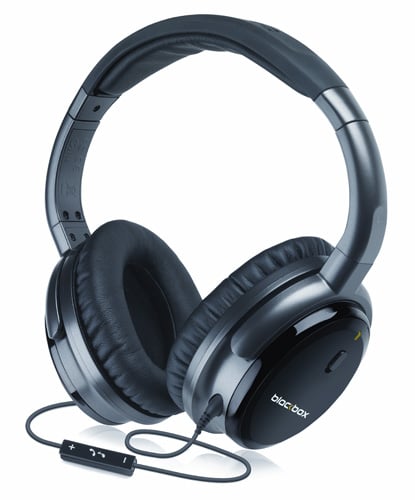 Reg Rating 70%
Price £165
More info Blackbox