Kindle Fire demand hits iPad rivals not iPad
Two-horse race being run
Amazon's Kindle Fire tablet is being portrayed as the first real competition Apple's iPad has had, but initial evidence from potential tablet buyers suggests it's Apple's rivals who really need to worry.
US market research company ChangeWave polled just over 3000 North American consumers this month and found that a staggering 19 per cent said they're thinking about catching a Fire.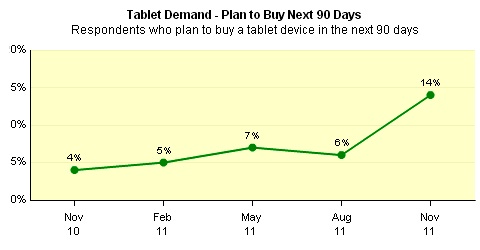 Source: Changewave Research
That's not only folk who said they'd already ordered one (two per cent) but also those who said they were very (five per cent) and somewhat (12 per cent) likely to do so.
Some 14 per cent of respondents said they plan to buy a tablet of one make or another in the next three months. This time last year the proportion was four per cent, and while the number of would-be tablet fans has grown during the intervening period, it has really increased through the last few months.
The tablets buyers want: November 2011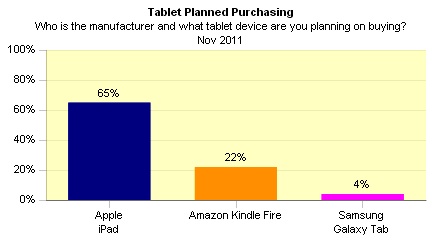 Source: Changewave Research
Of those folk, 65 per cent said the will choose the iPad. A further 22 per cent said they would pick the Fire.
Just four per cent said they'd have a Samsung Galaxy Tab and, said Changewave, "no other manufacturer is garnering more than one per cent of future tablet demand among consumers".
The tablets buyers want: February 2011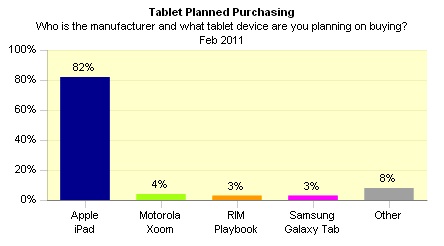 Source: Changewave Research
Back in February, Changewave data put the proportion of punters choosing the Motorola Xoom, RIM BlackBerry Playbook and the Samsung Tab at four, three and three per cent, respectively. Other tablets combined were chosen by eight per cent of buyers.
All of which may go some way to explain rumours that no few PC makers are looking to get out of the tablet business. Though we continue to be sceptical of that.
Past Changewave research has shown that that more than a quarter - 26 per cent - of punters planning to pick up a Fire will buy the Amazon tablet instead of the iPad they had been intending to buy.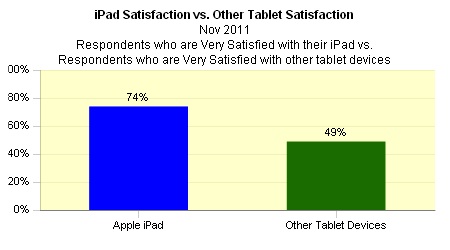 Source: Changewave Research
That's more a sign of the iPad's market presence than a particular dissatisfaction with it. Only 12 per cent said they are getting a Fire instead of another brand of tablet.
Indeed, Changewave's latest data shows that 74 per cent of iPad owners are very satisified with their tablet, a percentage point less that the figure was a year ago. Only 49 per cent of owners of other brands of tablet said they are that happy with their purchase. ®