This article is more than 1 year old
Why have VCs hosed down an obscure startup with cash?
Our man ponders on the secret that has money men drooling
Lookout provides mobile phone protection and management services in a friendly Mozy pre-EMC kind of way, kind of like a helpful uncle, but its revenue potential seems to be making VCs salivate.
Look at this funding history:
$5.5m in A-round in December 2009
$11m in B-round in May 2010
$19.5m in C-round in December 2010
$40m in D-round in September 2011
See how the funding pace accelerated in 2010 and then, this year, $40m came in? What is all this money for, all $76.5m of it? It's a huge amount and this is a software company, not a hardware development company. Certainly it has staff to pay - app security status curators for example - and is building global sales, marketing and partnership infrastructure, with local language European product and partners. That takes a chunk of change, and another big money pot is building out its data centre operation, but $76.5m is still huge sum. What is going on?
Something changed between December 2010 and September this year, something that prompted VC backers to pour in another $40m, almost as much as all the previous funding combined, something that could have been triggered by some business performance benchmark being reached.
But it was something that saw enormous revenue potential in reach, some big, big numbers. What could that be?
Lookout has 12 million customers, with Android as its code platform and likely to remain so. Some proportion of its customers convert to paid-for premium services but Lookout won't say what the conversion rate is. Still we can make a relatively informed guess as the company isn't yet profitable or profitable enough to pay for its build-out without taking $40m VC cash.
So revenues are not $40m. What might they be? Surely high enough to get the VC backers excited. Lets try a 1 per cent conversion rate and $30/year income per paying customer. It's adding, it says a million new customers a year.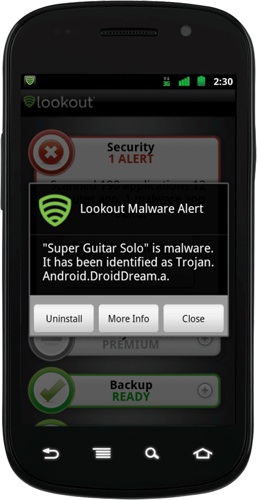 One percent of 12 million is 120,000; that times $30 equals $3.6m/year. Let's deduct half for revenue sharing with partners and that gives us $1.8m/year. Add in a growth of 1 per cent of 1 million - 10,000 times half a year's $30/new customer revenue split two ways, equalling $150,000 - and that gives us $1.95m a year - not much to excite a hungry VC at all.
Before moving on let's try multiply this to a 5 per cent conversion rate, which gives us a five-fold multiplier, equalling $9.75m, still no great shakes, and a 10 per cent rate giving us $19.5m, a bit more like it. Okay, Lookout is shooting for 100 million customers. A 1 per cent conversion rate of that would give us, approximately, $15m, and a 5 per cent conversion rate $75m/year, and, the kicker, a 10 per cent rate would generate $150m. Ah, VC excitement detected.
If Lookout can offer more paid-for services, such as cloud backup priced by data amount, and/or increase the conversion rate, then we have a money-generating machine here. Our numbers are crude and our calculations simple but, even so, we can begin to see that Lookout could be a cloud ATM for its backers, pouring out a river of cash.
Conversion rate and average revenues per customer will be key, as will retaining the ethos of the founders and their product. If they can pull this off, then Lookout could become a greenback gusher in the cloud. ®