This article is more than 1 year old
Nokia's Great Lost Platform
Could've been a contender...
Special Report Nokia has undergone a dramatic convulsion this year, abandoning its two smartphone software platforms, and allying itself with Microsoft. The company's software was widely seen as uncompetitive, and hadn't moved with the demands of the market. Nokia has also missed out on the most explosive hardware growth area in recent years. As the company put it, in regulatory filings made this year:
We may not be able to attract developers and other participants to our ecosystem if they do not have the opportunity to leverage their offerings across a wide range of mobile products, particularly tablets, which we currently do not have in our mobile product portfolio.
Yet it could be a very different story today.
A decade ago, Nokia developed an advanced software platform light years ahead of the competition, only to neglect it, and eventually abandon it. The platform would have allowed Nokia to bring more sophisticated devices to market more quickly, and the company may have avoided much of the difficulty that enveloped its software development. The story is a microcosm of issues that enveloped Nokia, and the mobile industry, in the past decade.
This software platform began life as a project called Hildon. It's a remarkable story: it was completed "under budget and over spec" in under 18 months, something nobody has achieved before or since.
Few public details have ever emerged about Hildon and its legacy, with the result that few people outside a select few in the industry appreciate its capabilities, scale and ambition. Wikipedia, reflecting the 'collective wisdom of the web', merely describes Hildon as an "'application framework' for Linux", with no reference to its fascinating ancestry.
"People redefined Hildon after the fact. They still think it was a UI – but it was a platform," explains Jeremy "Jezar" Murray-Wakefield, the project's original design manager.
Here's the story of what Nokia had, but threw away.
A Meeting of Minds
Sometimes it hurts to be early.
The most dramatic new growth in consumer electronics in the past decade has been generated by two devices: an internet tablet and a slate - Apple's iPhone and iPad. The iPhone is a handheld designed around data, and the iPad is simply a tablet computer, conceptually little different from so many designs to hit the market over two decades. Indeed, the need for such wireless, connected mobile devices was being anticipated many years ago.
These future gadgets had a different name, at the start of the century. They were typically called WIDs or MIDs: a permutation of [Wireless | Mobile] [Information | Internet ] Device. And a decade ago it looked like these would be developed on a common software base, jointly owned by the three largest handset manufacturers of the time. Nokia, Ericsson and Motorola were shareholders along with the creator of the software, the British computer company Psion. This venture was called Symbian. The future truly appeared to be at Symbian's feet.
By the middle of the year 2000, Symbian had yet to ship its first real phone, however. And internally the top of the company was riven by conflict, as the owners pulled the vision in different directions, and gradually exerted control over the software, away from the original designers. We told this story last year – see this episode of our Three Part special history ( One and Three).
Psion had pioneered the PDA market producing pocketable mini-laptops renowned for their reliability and sophisticated software. Nokia had introduced something similar, a sophisticated mini-laptop, the size of a large phone, in 1996, called the 9000 Communicator. The very concept of Symbian emerged from their co-operation, as we described in detail here.
So looking forward, they had similar needs. But they also wanted to modernise the software, and expand into the WID or MID device space – what we today call handheld tablets. Nokia's second generation Communicator was based on Symbian, and it was taking a long time to emerge – and wouldn't do so until the following year. Nokia had already taken the decision not to develop any further devices on this platform, codenamed 'Crystal'.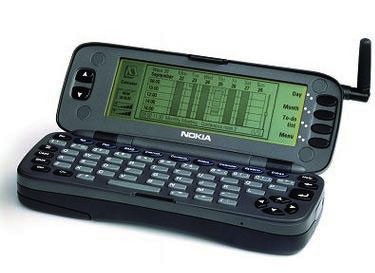 Nokia's 9000 from 1996
It was natural the two should co-operate.
In November 2000, an experienced executive, an American relatively new to Symbian, was called into an office at Psion's HQ. Jonathan Sulenski was given a proposition. Psion and Nokia would jointly develop a future platform. The work would be done at Psion, and Nokia would retain an option to license this software. Would he like to accept the challenge?
Charles Davies, the Psion executive who made the offer, described it as follows.
"The appeal for us was we didn't have to contribute our own private resources to develop our own next gen UI," he told me. Nokia had even greater ambitions, and more at stake. The project would become its strategic smartphone platform for the future.
It was unusual for Nokia to devolve something so important to an outside group, over which it didn't retain total control. And a new outside group, with no track record of working together, spontaneously created for the purpose. But it's a sign of how much respect and trust there was between the Finnish company and the British counterpart. The project had powerful backing from an enthusiastic and charismatic Nokia executive board member, Anssi Vanjokki. The Harley-Davidson driving Finn had been appointed to the board in 1998, and in addition to leading Nokia's mobile phones division in Europe and Africa, led the Digital Convergence Unit.
There was just one problem.
Psion's working codename for the project was Brian.
"You can't call a platform Brian," Matt Millar, who became the technical lead, and today is CEO of Live TalkBack, recalls saying.
The team cast around for inspiration, but drew a complete blank. They fell back on the ubiquitous bottled mineral water on the table in the conference room.
With Sulenski given a £10m budget and a challenging 18 month deadline, Project Hildon was underway.