This article is more than 1 year old
Nokia's Great Lost Platform
Could've been a contender...
The Project
The scale of the task was immense. Hildon could use the kernel from Symbian, but almost everything else had to be written from scratch.
"We needed new application engines, so everything was new, really," recalls Sulenski.
Hildon needed new telephony and messaging stacks and apps, a new Office suite, and Java. The specification also called for technologies anticipated in the future: such as IPv6. It would have The Hildon team in London would design the architecture and UI, contribute crucial code and co-ordinate the teams of contractors around the world. In the end, eight companies in nine countries were working on at Hildon as contractors. The London team would also have to test the code and deliver a working product on a new reference hardware platform.
The ground-up approach had other advantages. "It ensured it was clean, not spaghetti code," recalls one manager.
"Outsourcing was the only way to do it," recalls Sulenski. "If we'd done it in-house we'd have built a huge infrastructure, which needed personal support, and the great expense that goes with that. We were not building a company or an organisation".
The team ended up using an incremental development that today is known as Agile – before The Agile Manifesto (2001) made the term fashionable.
"We wanted to build something that always worked. The traditional waterfall model wouldn't produce the work in time. So we were always in a ready-to-ship state. The final stage was making it robust."
Sulenski drew heavily from former Psion staff. Jezar Wakefield was UI lead, bringing in Nick Healey as consultant. Millar was invited to become the technical chief. Millar was leading the 9200 Communicator project at Symbian and would not be able to join until Spring 2001. The number of staff would swell to over a hundred: more if contractors were included, and the core team spilled out from Psion's HQ in Park Crescent.
But incredibly, the nature of the project never got out, even to most other Psion staff. Psion staff who had been seconded to Hildon couldn't tell their colleagues what they were working on. Sulenski attributes the secrecy to a decision to pull everyone on the project from around the world for a formal technical review day, poring over every aspect of the project, followed by a social event. Sulenski organised a big party culminating at The London Dungeon. Large amounts of alcohol were consumed. It meant every contractor had looked every other one - and Hildon managers – in the eye. Sulenski today still credits this teamwork.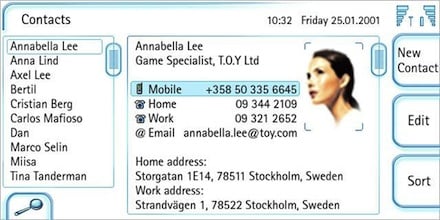 The Hildon UI
There was one problem, though, and it's a surprising one in retrospect. Despite the common ownership, the Hildon team couldn't get source code from Symbian in a timely fashion. It took nine months to get access to Hurricane, as Symbian OS 7.0 was called, by which time the team had been working on version 6.1.
"There were cross-licensing agreements, and not everyone was on board," recalls one frustrated manager. And Ericsson - which had contributed its pen interface work to Symbian, which became UIQ - viewed the Hildon project with suspicion.
"It was a microcosm of why Symbian failed, really," says one manager. "They didn't get the source code out."
Nokia could be infuriating in its decision making – something the world only saw much later in the decade.
"We would imagine a Deity in a cupboard making all the decisions, that had to be consulted," says one executive. "Nobody would make a call on the spot. They'd go away, and come back days later with a decision. It was a consensus culture."
Nonetheless Nokia's trusting approach won a lot of respect.
"Nokia was particularly brilliant and acted with absolute integrity throughout seeing as it was the 'elephant in the room'. They were complete gentlemen about it," recalls Sulenski.
And the team delivered. As the spring of 2002, the team could deliver the working platform.
Exit Psion, Enter Mobile Innovation
Nokia and Psion were both receiving code drops, as they drew up their respective product strategies. In June 2001, Psion had made a very public exit from the consumer PDA market it helped create. But it had retained key personnel after spinning out its software division in 1998 to form Symbian, and retained staff including employee No.1 Charles Davies, and hardware guru Mark Gretton. Away from the glare of publicity, Psion was devising an ambitious enterprise strategy, with push email software and sophisticated communicators.
What happened next is murky, but the outcome is not disputed. In the spring of 2002, Gretton and Davies were invited to in Finland to see Nokia's plans for products based on Hildon. It was so secret that Sulenski and the Hildon team couldn't see them. What they reported was that Nokia was preparing devices of such sophistication that competitors would have a very hard time.
Alarmed, Psion withdrew from Hildon. The Psion board decision still angers Gretton:
"Psion died by a succession of blows, people with less and less ambition — and more fear," Gretton recalled in an interview in 2007. "This fear became self-fulfilling. The mentality was that everyone will get us: 'Nokia will get us, Palm will get us, or the Japanese will get us.'... In the end we got ourselves!"
Meanwhile the Hildon team was being wound down. On a plane to Helsinki, Sulenski and Millar decided to take a radical step. They'd form their own company, try and keep the team together, and put the idea to Nokia.
Nokia, remarkably, accepted the proposal. In doing so, it was entrusting the development of its anointed future platform to an outside entity. The new company was called Mobile Innovation, with Sulenski and Millar's savings tiding them over.
"One of the things I'm most proud of, is almost all the contractors came off Hildon to work for Mobile Innovation – and at a reduced rate." Sulenski was wary of being so reliant on one supplier, and found other work for his engineers: Sendo was actually Mobile Innovation's first customer. But such was the insider industry reputation of the team – creating a platform in less than 18 months – more work followed.