This article is more than 1 year old
Nokia's Great Lost Platform
Could've been a contender...
Series 90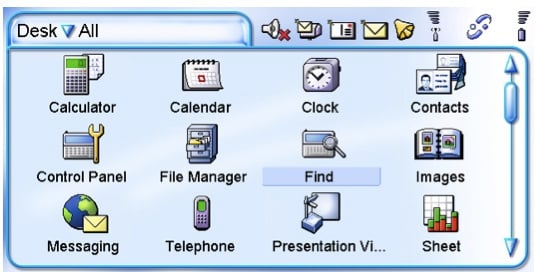 Series 90's "Desk"
from the Series 90 UI Style Guide; October 2003
Hildon was finally given a name for public consumption, Series 90, and revealed it to the world on 27 October, 2003. The first Hildon phone was announced the same day, a futuristic looking media tablet with no keyboard. This was the MX media tablet, the Nokia 7700. There was also a surprise: Nokia's old Crystal platform, Series 80 was still "alive" as the company explained:
"Nokia's Communicator line of high-end, top-performance business devices, will continue as the user interface for Communicator devices going forward, and will be aligned with Developer Platform for Series 90."
This was a curious explanation, to the say the least.
Series 90 wasn't revealed with a Big Bang – as a new platform superseding the old one, with everyone being chivvied to jump aboard. Series 80 would live on, gradually merging into Series 90, Hildon. Developers were encouraged to view Hildon as the future, but it was a confusing message. As the industry noted, Nokia was now juggling four platforms, three of them Symbian-based.
How had this happened? Why had Series 80 been kept alive?
In fact, it hadn't.
Three months later, at the industry's annual get-together in Cannes, Nokia revealed its first new Communicator for three years, the Nokia 9500, based on what looked like Series 80. What nobody knew - and outside of a small circle of insiders, most people still don't know - is that the 9500 was based on the entirely-new Hildon platform; it was the second Hildon device.
Nokia were able to do this thanks to the remarkable flexibility of Hildon, and specifically two assets that the team had created. Neither of these were on the original specification, but the designers included them because they could do so without delaying the project, and knew they added long-term value of the work.
One was user interface skinning, the ability to change the look and feel of the user interface chrome: the widgets, and colour schemes, very quickly and on the fly. A skinnable UI could be changed by the user in real time. So Hildon could be made to look like a traditional phone, a Series 40 or Series 60 phone, or it could look like a Nokia Communicator.
Skinned alive: a user has modified this Nokia 7710 to look like Microsoft Windows
The team also added to Hildon backward compatibility with Crystal, the basis for the 9200 Communicator. Hildon could run Series 80 applications written for the older platform without any overhead. Not all applications ran on Hildon, and not always perfectly, but many did so well and without an expensive run-time translation overhead.
As a consequence, to this day, nobody really knows that the Nokia 9500 and Nokia 9300 are Hildon machines – a testament to the subtle, thoughtful and forward-looking design decisions taken in London three years earlier. It allowed Nokia to present the 9500 as an upgraded Series 80 machine, with minimum disruption to the existing Communicator developers, and to enterprise users familiar with the earlier UI.
So long-term advantages of getting the ecosystem to a more advanced platform were sacrificed for short-term advantages of compatibility and familiarity.
Politics
Unknown to the rest of the industry, the politicking inside Nokia was getting furious.
Although Hildon, now Series 90, could look and feel like the other Nokia platforms, and was much cleaner and simpler, this strategic value wasn't really appreciated. The people who did recognise it were those groups threatened by it – particularly the groups aligned with the basic Series 60 platform.
They fought hard to add features to Series 60 so it didn't appear to be so far behind the more sophisticated rival platform. In June 2004 Nokia we saw an example of it.
Nokia announced it had devised "a scalable framework" to the spaghetti code of Series 60, adding support for new screen dimensions. As we reported:
In addition to the familiar 176x208 comes 208x208, which will allow devices that like the 6800, rotate through 90 degrees, and two surprises: 240x320 quarter-VGA, and 352x416. The latter is enormous for a cellphone, hinting that Nokia has set its goals on the portable HDTV market, and promising nightmares for wallpaper designers everywhere.