US researchers recently named the atomic clock at the UK's National Physical Laboratory (NPL) in London the most accurate atomic timepiece on the planet.
Experts from the University of Pennsylvania found that NPL-CSF2 loses just one nanosecond every two months.
It's a badge of honour for NPL, the birthplace of the first successful atomic clock, whose daddy was controversial physicist Louis Essen who built Caesium I – in 1955.
Essen worked with NPL's John Parry, as senior scientist on the clock. He went on in later years to outrage the scientific establishment by claiming that errors in Albert Einstein's theory of relativity meant the formula E=mc² was wrong. Others have since followed Essen.
When it comes to clocks, the NPL-CSF2 descendant of Essen's original work is a big hitter.
Dr Krzysztof Szymaniec, leader of NPL's CSF2 project, told us in an interview: "Whoever you get your time from, they get their time from a clock that uses international time, and we are at the top of the pyramid."
NPL CSF2 is one of a six atomic clocks used to ensure the accuracy of the international standard for time, Universal Co-ordinated Time (UTC), upon which all clocks and devices rely for time.
TAI is set by 300 atomic clocks but these also slip and it is NPL CSF2 – with its five atomic peers – that keep the rest honest, providing the primacy frequency standard.
NPL CSF2 is the best of the best.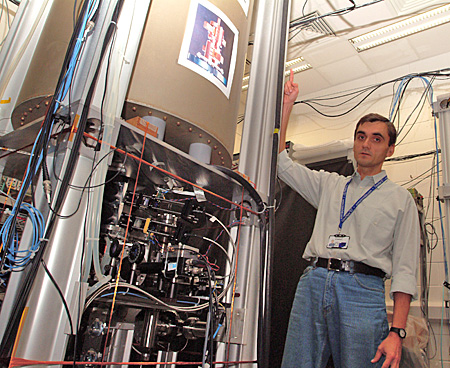 Szymaniec and CSF2: the future is more accurate
The US study, lead by professor Kurt Gibble and published here, is providing more than an occasion for some patriotic pendulum waving, though: it's paving the way for the construction of a timepiece that will measure the second even more accurately.
NPL has started work on CSF3 – an early version is scheduled for early 2012 – and Gibble's work is helping NPL refine one component that will be important in helping overcome the effects of a force currently impeding absolute accuracy in CSF2.
That piece? Something called a cavity, which is shaped like a Coke-can and though which lasers are shot and millions of caesium atoms are streamed – the process by which physicists measure the second. It reduces distributed cavity phase, which is like Doppler effect and makes accurate readings of a second very hard to take.
You probably won't notice the impact of the cavity or CSF3 on your daily routine of getting a train on time or picking the kids up from school at the end of the day, but NPL is not looking to the present. The team hopes to lay the time-keeping foundations for a generation of future applications yet un-realised. This could include deep space flight where accurate time is critical to an understanding your exact location and where getting it can mean the difference between a soft landing in Florida or making a wrong turn and getting lost light years away. If you think that's a all a bit far-fetched, consider where we are today.
"The question of application at this stage of development is legitimate," Szymaniec concedes. "Yeah, you could say it's just for he sake of it but there will be more applications once the technology is available.
"GPS and sat nav is so popular now but only because you can put these atomic clocks on satellites and maintain the accurate time scales. Forty years ago when these [atomic] clocks were coming out, if someone said: 'Who needs an atomic clock we are happy with what we've got', it would have been true - we didn't have any apps that required that, but they nevertheless developed those clocks and we made them small and so small that they could put them on a satellite."
Ahead of extra terrestrial GPS one of the first deployments for NPL-CSF3 could be in the more down-to-earth task of helping regulate every other timepiece on the planet. That will impact things from today's generation of GPS and satellites systems to the time-stamping financial transactions in The City and Wall St.
The time standard for all clocks, devices and applications is Universal Co-ordinated Time (UTC), which is maintained by the International Bureau of Weights and Measures (BIPM) outside Paris, France. However, time keepers at the BIPM and International Telecommunications Union (ITU) are coming close to deciding whether UTC should decoupled from astronomical time and come to rely one-hundred-per-cent on International Atomic Time (TAI).
An ITU meeting is scheduled for January in Geneva, Switzerland, where a vote will be taken on decoupling, ending a decade of debate on the topic. Among those objecting to decoupling are Britain's ITU representatives.
Sponsored: How to simplify data protection on Amazon Web Services