Researchers are building a prototype design that would enable a two-legged robot modeled on an ostrich to run at around 50mph. In simulations, it can already outpace human sprinters.
Dubbed FastRunner – presumably to counter any "neep, neep" Road Runner jokes – the robot is being developed by teams at the Florida Institute for Human and Machine Cognition (IHMC) and MIT. The task, set by DARPA, is to build a bipedal robot capable of operating independently of human control, which can run at 20 mph on a flat, unobstructed surface or 10mph on broken or sloping ground.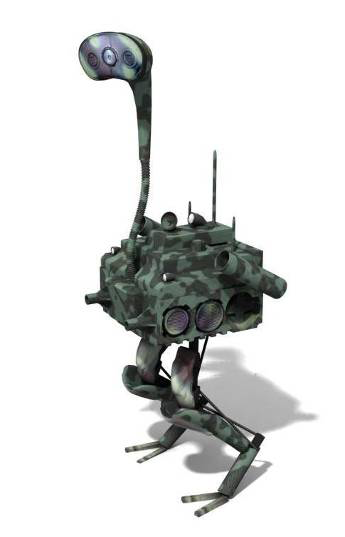 FastRunner is no turkey
The IHMC team, under the leadership of research scientist and bipedal-robot specialist Jerry Pratt, looked at naturally occurring examples of running and settled on the ostrich as the most likely candidate – although it was clear that replicating all the function of its legs would be impossible. The idea's originator and official ostrich investigator Jonhny Godowski examined footage of the flightless bird's motion and devised a more efficient mechanical system.
"One of the innovations comes from using one actuator per leg, not one per joint as has been seen in previous examples of robotics," Sebastien Cotton, who leads the modeling, simulation, and control efforts, told The Register. "There's very little mechanical below the knee."
As the robot moves its upper leg forward, the lower leg articulates at the knee and swings far forward, before planting its foot on the ground and beginning the next step. It can also stand vertically using no power at all. The team has around 70 per cent of the prototype's first leg completed, and computer simulations show no reason why is should not exceed expectations.
"Having just two legs, the robot is lighter and simpler," Cotton explained. "There's also more flexibility – a two-legged robot can get through narrower spaces than a four-legged machine. That said, the same leg design could work for robots with four legs or more."
The biggest problem with a bipedal design is stability. The team has now cracked this problem with software that shifts the legs frequently to ensure the body stays upright at all times, while using the minimum power.
The goal is to build the FastRunners to be about 1.4 meters high and weighing no more than 30kg, including the central processing unit. These can be used for reconnaissance, but also for search and rescue missions, where risking a human under fire could be dangerous, although the lifting capacity of the device would have to be improved. ®
Sponsored: Webcast: Ransomware has gone nuclear