This article is more than 1 year old
Cutting-edge Mirasol display finally comes to e-reader
South Korean 'Fire' touts next-gen screen tech
The much-awaited Mirasol display has made its debut in an South Korean e-reader, offering the colour of LCD combined with the clarity, and power consumption, of electronic ink.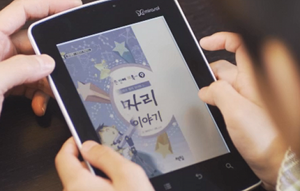 Mirasol technology was developed by Qualcomm, who have been demonstrating it for a few years now and even announced that screens were in production for a product launch intended for early this year. It's not early in the year, but the Kyobo e-reader seems to deliver just what Mirasol promised, at least as far as one can tell from the pair of demonstration videos.
Kyobo's offering is tied to its bookshop, much like Amazon's Kindle Fire, and it shares an operating system with Amazon's offering, but it's the screen which really should set it apart.
Electronic books are impossible to judge until they're in one's hand, the difference in clarity between LCD and electronic ink is impossible to convey in words. But having handled some (prototype) Mirasol hardware we're happy to say it really is quite breathtaking, in demonstration at least.
The technology works by trapping the wrong wavelengths of light, only allowing the desired colours to reflect. There's no need for backlighting, a Mirasol screen resembles a magazine page more than anything else. The technique also produces the shiny colour on a butterfly's wing, which was, apparently, the inspiration.
Mirasol is also a static technology: like e-ink it requires no electricity to maintain an image only to change what's being displayed. That offers the potential for huge battery lives, though the Kyobo reader, with its 1GHz Snapdragon processor and Android OS, is only claiming to last a couple of weeks at best. Koybo has decided to backlight the screen, which shouldn't be necessary but may be an indication of what has delayed the Mirasol tech for so long.
We've asked Qualcomm repeatedly about the delays to Mirasol, only to be told that development was continuing but that details couldn't be discussed. Other screen technologies have had a hard time maintaining quality once put into mass production, and reliability has been an issue with each generation of LED technology as it first emerged from the factory.
Kyobo's reader is following the Amazon Kindle Fire path, with a forked Android and discount for members of Kyobo's Platinum Book Club (think "Amazon Prime"). That discount brings the cost of the Kyobo down to 349,000 in local Won (£167), compared to the £195 everyone else in South Korea will have to pay. Given Kyobo's presence, and dominance, in South Korean an international launch isn't expected any time soon.
Like the Fire, that's probably a subsidised price, and it's interesting that Kyobo isn't pushing the Mirasol technology as a key differentiator. From the video it looks amazing, but we're not going to say it is until we get one to play with ourselves. ®