Fake doc cuffed in concrete arse shocker
Performed buttock-boost with 'cement and flat-tire sealant'
---
Miami cops last week slapped the cuffs on a transgendered woman accused of performing a buttock enhancement with "cement, mineral oil and flat-tire sealant".
The unnamed victim of the procedure, keen to sport a more shapely derrière, approached Oneal Ron Morris, 30, in May 2010 on the recommendation of a friend, CBS reports. The bogus doc charged $700 for the op, which involved sticking tubes in the patient's backside and pumping it full of "toxic substances", according to police.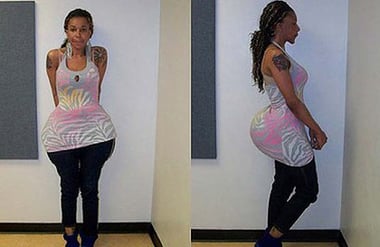 Miami Gardens Police Sergeant Bill Bamford explained that when the patient complained of extreme pain, Morris (pictured) dismissed her concerns with: "Oh don't worry, you'll be fine. We just keep injecting you with the stuff and it all works itself out."
This diagnosis proved inaccurate. The victim subsequently went to two Florida hospitals suffering "sores, flu-like symptoms and severe pain", but left without treatment since she was too embarrassed to tell the real sawbones just how she'd got herself into such a state.
Eventually, her mother dragged her back to hospital where the truth came out. Doctors alerted the Department of Health, and police began a year-long search for the perp.
Morris was finally arrested last Friday. Police say the hard-arsed crim "apparently performed the surgery on herself" - an assertion backed by a substantial body of evidence in her mugshot.
Sergeant Bamford also reckons Morris may have worked her cement-based magic on other women, who are too ashamed to come forward. ®
Bootynote
Thanks to the various readers who flagged this one up.