Jamo S 426 HCS 3 home cinema speakers
Standing room only
Review There is no shortage of home cinema speaker packages priced at around the £300 mark. It is less common to find one incorporating a large floorstanding pair but that's exactly what long-established Danish brand Jamo is offering with this bundle. It seems too good to be true, yet somehow it is.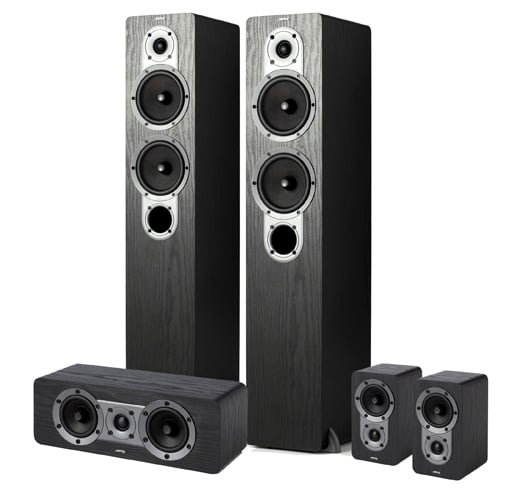 Tower of power: Jamo's S 426 HCS 3 home cinema speaker system
Those all-important floorstanders are called the S 426. Considering the price, their look and feel is better than you might expect. The wooden enclosure houses two 140mm woofers and a 25mm tweeter. The cables fit into screw terminals or alternatively binding post connectors but there's no bi-wiring facility, so you can't power the low and high-frequency drivers separately.
The compact centre speaker uses the same kind of connections but its drivers are smaller (2 x 89mm and 1 x 19mm) and it shares more of its characteristics with the little rear speaker counterparts rather than the floorstanders. The website has the tweeters down as 25mm on the both the centre (CEN 420) and surround (SUR 420) speakers, but they're definitely 19mm.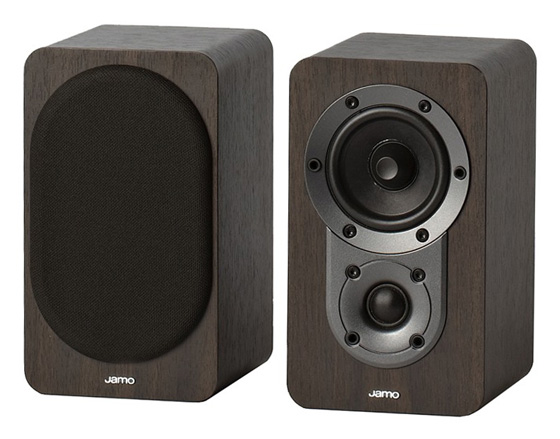 The two surround satellite speakers suit wall-mounting
The satellite S 420 SUR speakers are the usual bookshelf types, with a footprint of only 118 x 125mm, and they are easily wall mountable. Unlike the front speakers, the only option is to wire them up using small spring clips. If you have chunky cables, they may not fit. The five speakers are available in black ash, white ash or wenge, a dark tropical hardwood.
The floorstanders are powerful enough for a medium sized room but for larger spaces, Jamo has a matching subwoofer – the SUB 260 – to bolster the deeper bass levels. It does this very well, although it doubles the cost of the system. If you're on a budget or have fussy neighbours, you'll need to think carefully about whether adding that extra '.1' to the 5.0 package is essential.
Adding the SUB260 to the array doubles the price and more than doubles the oomph
I tried the system with and without the sub, in a reasonably large room, and powered by the impressive Onkyo TX-NR609 AV receiver. The Tron Legacy Blu-ray disc has a highly active soundtrack, especially the signature lightcycle battle (Chapter 7), and the speakers handle the rumbling bass, punchy effects and pounding score to great effect.