Is it a bird? Is it a plane? No, it's Apple's 3D recognition patent
New tech identifies tanks, faces, tumours and more
---
Apple secured a patent yesterday on software to create and identify 3D models of faces, animals, aircraft, military vehicles and tumours in one of the more unusual tech patents to be awarded in recent months. This came to light after the US Patent and Trademark Office published a series of newly awarded patents.
Several other patents were awarded to Apple yesterday by the patent office, including patents for video encoding, virus scanning and a push notification system – but the 3D object recognition patent is the most ambitious of the set.
One photo of a face could enough for the new software to create an accurate 3D model of the person's head that could be used to identify them, thanks to the technique which uses corners and face features to recognise 3D objects. Several images or a short film of a face would create a much better model.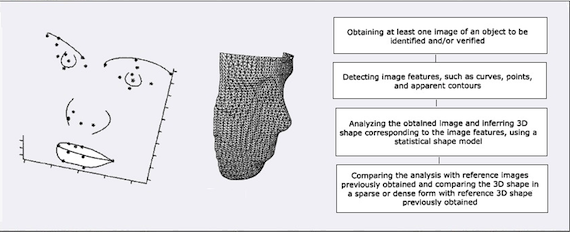 The 3D object recognition uses corners to create 3D models from 2d images
Apple bought the recognition tech in 2010 from Swedish company Polar Rose, which ran a search engine for faces that was pulled just before the Apple buy-out. Polar Rose founder Jan Erick Solem is a self-described computer vision guy who now seems to be working in California. He built the recognition software out of his PhD in applied maths, image analysis and image recognition, according to this write-up. The cunning trick is that it calculates where the camera is positioned in relation to the object and then does geometry to work out depth.
According to the patent, the technique is accurate enough to use in medical situations – to identify and model organs, tumours and even blood vessels and used as a basis for surgery.
The recovered 3D shapes of blood vessels or organs recovered from 2D projections, eg, using X-ray imaging may be used for navigating steerable catheters or aiding physicians by displaying the recovered 3D shape.
While 3D recognition software can apply to any 3D object, it has been specifically designed for special classes of objects including the following:
The object may be one or several of: a human face, a human body, inner organ(s) of a human body, blood vessel, animal, inner organs of an animal, a tumor, manufactured product(s) from an industrial process, a vehicle, an aircraft, a ship, military object(s).
Medical and military sound like major potential applications.
Apple points out that the face part could have applications in border controls, immigration and police surveillance: "Face recognition may be an effective way of identifying a person without the cooperation or knowledge of the person." The patented technique of using geometry to locate object corners overcomes the problem of different lighting and different poses in normal object recognition. ®