This article is more than 1 year old
Hubble snaps mystery green death nebula in NGC 1846
Curious case of dwarf galaxy's possible member loss
NASA's Hubble Space Telescope has captured an image of the death of a star in a nearby dwarf galaxy.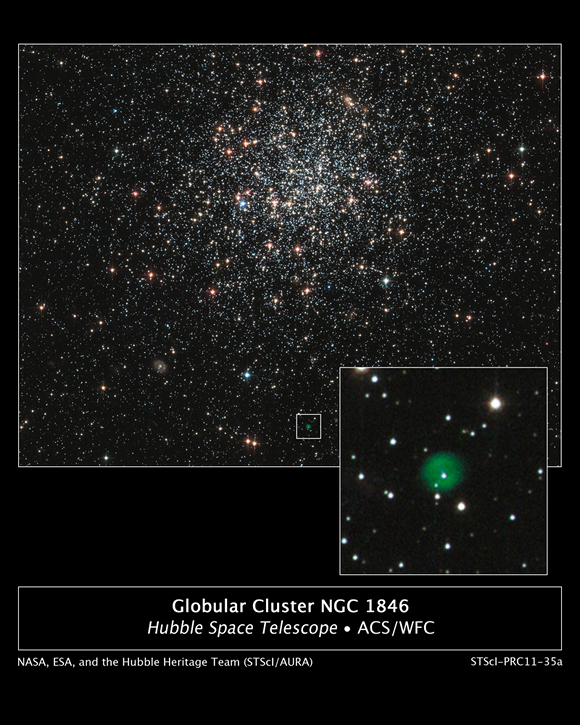 Hubble snapped the shot of the cumbersomely named Globular Cluster NGC 1846, a collection of hundreds of thousands of stars in the outer halo of the Large Magellanic Cloud, in January 2006.
The shot captured the faint green of a planetary nebula, which space boffins aren't even sure should be there.
Aging stars show up in reds and blues, while the middle-aged stars – several billions of years old – are the ones that are whitish in colour. The green bubble in the bottom centre of the picture, however, is the aftermath of the death of a star and a burned-out central star can be seen inside the bubble.
The space agency said it was "uncertain" whether the nebula is a member of NGC 1846 or if it is just in the line of sight of the telescope when the 'scope is pointing at the cluster.
"Measurements of the motion of the cluster stars and planetary nebula's central star suggest it might be a cluster member," NASA said.
Globular Cluster NGC 1846 is around 160,000 light years away from Earth. ®