Murdoch junior QUITS board of Sun publisher
Quietly resigned from News International's sister biz
---
James Murdoch has sensationally resigned from News Group Newspapers' board of directors, thereby seemingly turning his back on News International's remaining British publications: The Sun, The Times and the Sunday Times.
A filing at Companies House, first spotted by the Evening Standard, revealed that Murdoch quietly resigned from his directorship at NGN on 29 September.
It's unclear why the information has only just come to light.
Since the phone-hacking scandal began to unravel earlier this year, pressure has been mounting on media tycoon Rupert Murdoch's son, with some shareholders at parent company News Corp calling for the company's heir-apparent to quit the publishing giant.
NGN, the one-time publisher of now-defunct News of the World – the tabloid at the centre of the voicemail interception and police corruption allegations circling around Fleet Street – is yet to respond with an official statement.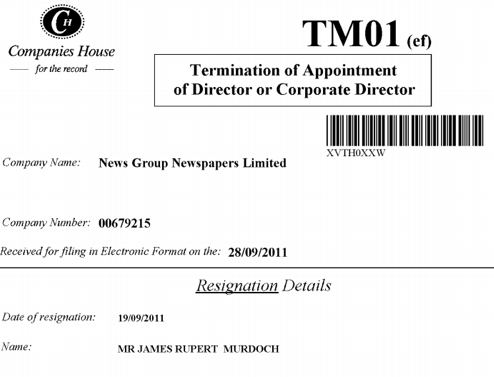 According to the Standard, News International – which wasn't answering its telephone or responding to email at time of writing – said this didn't mean that Murdoch junior would step down from his role as chairman at NI.
However, pundits will wonder if his directorship resignation from NGN could point towards News International preparing to exit from its remaining newspaper empire in Blighty.
James Murdoch may also face a shareholder revolt next week at BSkyB's annual general meeting. He is currently the chairman of that company, 39 per cent of which is owned by News Corp.
BSkyB's board gave Murdoch junior its full backing in July at the height of the phone-hacking drama that has engulfed his father's firm. ®
Similar topics
Narrower topics