Inside the BBC's R&D Labs
From the Lab to the living room
---
Whatever your views on its programming, it is hard to deny that the BBC's research labs have produced some pretty clever things over the years. Teletext, RDS and Nicam stereo are just some of the more well known ones, but the R&D Lab is also responsible for much of the work on the DVB-T2 standard that makes Freeview HD possible, as well as research on topics like resolution and screen size that Reg Hardware has looked at before.
Following that long history of innovation, the closure in 2010 of the labs facility at Kingswood Warren, Surrey made some observers worry about the future of the R&D department, now split between two locations in London and a third in Salford's new Media City UK development.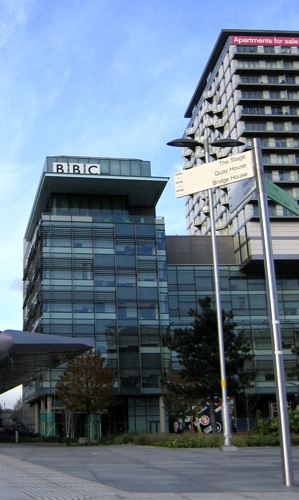 North Lab, part of Salford's Media City
No need to worry, the Corporation claims. To prove how busy the R&D Labs are, it invited Reg Hardware to travel north to take a look at what's happening in the labs today.
Only connect
Tucked away on the fifth floor of Dock House, the new North Lab is a far cry from Kingswood Warren. What at first glance seems like a modern open-plan office boasts, according to Project Director Adrian Woolard, some of the best connected desks in the Corporation – and probably the UK – with massive bandwidth to the Lab exceeding the whole of the rest of the Salford site.
Each desk has been supplied with up to six Gigabit Ethernet connections to meet engineers' immediate requirements, but dark fibre and low-loss coax are available throughout the Lab, for future-proofing. Given a good business case, up to 80Gb/s could be supplied to each engineer using existing technology.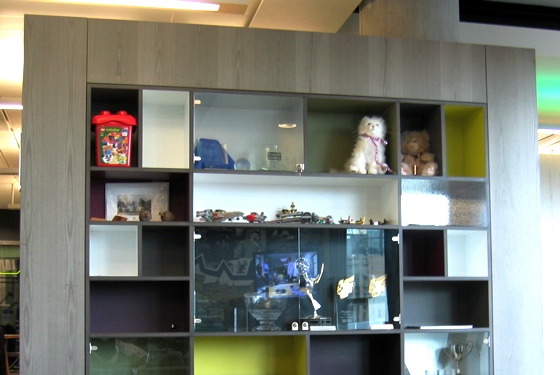 Gongs for boffins: the R&D Labs' awards cabinet. And an animatronic cat
Across the Lab, in fact, IP networking is having a big impact, from the continuous live link in the reception area, keeping the team in video contact with London colleagues, to a production system that allows 'rushes' to be taken from a camera and synced to multiple devices, so all the members of a team can make notes or comments about a shot within a short time of it being loaded into the system.
It looks too as if the IP and the internet will have a significant impact not just on production but also on how we consume TV and radio – but perhaps not in the way many Reg readers imagine.
With the UK's creaking broadband infrastructure, broadcast will still be doing the 'heavy lifting' of delivering content to many consumers for a long time to come, with the internet enhancing it through hybrid services.
Similar topics
Broader topics