This article is more than 1 year old
Erotica 2011 stands firm against rise of the sex machines
Old-school tools hit of leather and vibes bash
NSFW It may not have been overtaken by machines just yet, but reports of the demise of Erotica may be just a bit premature.
An official spokesman for what is widely billed as the UK's premier adult event confirmed this weekend that London's Olympia had already been re-booked for next year and, despite detractors, Erotica was looking forward to many more years of "celebrating sensuality".
Still, there are questions as to the exact point of this eclectic, eccentric mix of the erotic, exotic and frankly banal – taking place towards the end of November each year – and whether the £30 admission is quite justified by what lies within.
There is also a major question mark over whether Erotica has much to say to those seeking the latest developments on the sexual technology front.
As before, the event divided into three. There was the floor show: a succession of erotic artistes gyrating in time to music that seems to grow yearly more deafening. There were seminars and demos, including instruction on how to write a successful porn novel, how to take "decent" erotic pics, ropework and becoming a dominatrix.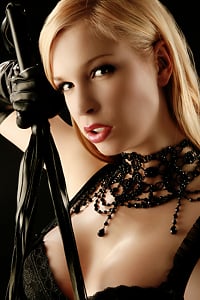 Being a dominatrix is, er, an acquired skill?
Image via Shutterstock
Then there was the exhibition itself: a thoroughly mixed assortment of stalls, ranging from the self-evidently sexual, such as the Screaming O (purveyors of "vibrating rings and lovely things") to the puzzlingly everyday: a "special hairclip" stall, a company specialising in eyebrow stencils, and Shawbury Vintners – "importers of fine wines". No doubt these all deliver quality product: but erotic? We think not.
Back again were old favourites Toffoc – a Welsh company making toffee-flavoured vodka – and Renapur, who supply a complete leather care cream. Though not the RSPB, whose dalliance with Erotica appears to be at an end.
Were we imagining it? Among the corset manufacturers, lube providers, electrical stimulators, porn publishers and leather bondage makers, has the proportion of stalls devoted to the wholly unerotic increased ever so slightly?
As for the "techie angle", Erotica fails to impress. This year's most pervasive bit of new kit appeared to be an all-in-one system for intimate female shaving. Useful – but not especially erotic.
There were vibrating gloves, no doubt handy for massage – intimate or otherwise. There were some impossibly pneumatic creations in latex, suggesting that one or two of those spending too much time indulging their sexual fantasies on Second Life have recently started to spend far too much time indulging ditto in the real world of fashion.
There were a couple of fucking machines, complete with "vac-u-lock" attachment (which we learned, with relief, locks to the machine and nowhere else!).
However, the only truly innovative product appeared to be the "little rooster", a new concept in early morning alarm calls – albeit mostly for the ladies. For this is an alarm-cum-vibrator, that fits neatly inside your knickers and wakes you, according to the sales blurb 'gradually, sensually'. It is ideal for heavy sleepers and perfectly safe, as the assistant explained: "I've been wearing mine all week, and it's not the least bit uncomfortable".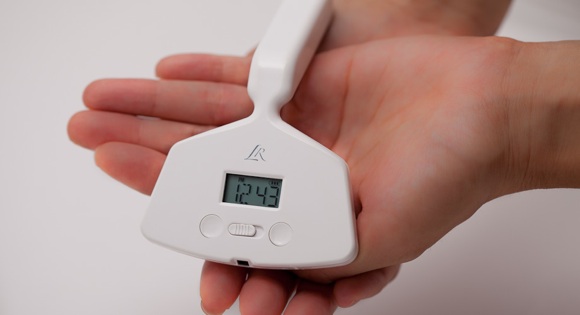 You're not actually supposed to wear it in your hands...
This is all very strange, since a combination of mischievous technological ingenuity and internet geekery look set to make the next decade the dawn of a great new era of techno-sex. This Christmas, fans of all things vibratory will be celebrating the launch of a new and fully legal "magic wand".
This follows the demise of the Hitachi magic wand, allegedly the world's first mains-powered vibrator, removed from sale after officials declared it unsafe. Not, we understand, for its erotic effect: but because it did not possess a CE kitemark, and therefore fell foul of EU health and safety rules.