Erotica 2011 stands firm against rise of the sex machines
Old-school tools hit of leather and vibes bash
---
Control comes in a variety of forms...
The wand is dead: long live the wand! A new and supposedly safer version emerges shortly from the shelves of Lovehoney - and your correspondent, aided and abetted by a number of other people who write on such matters, will be reporting back on the first UK road test of same a little later in the year.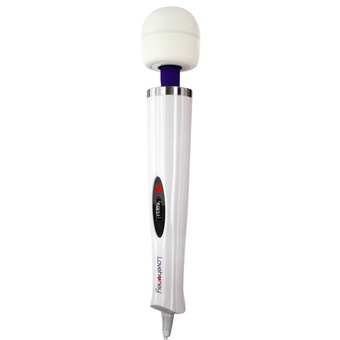 The NEW Magic Wand. Yes, it's a handful
Still, that remains old and relatively run-of-the-mill technology. The erotic game-changers, in terms of interest and subtlety, lie in three quite distinct aspects of the techno-sex revolution: automation; control (remote, technology-specific, and increasingly sophisticated); and simulated touch.
Let's start with automation and the increasingly ubiquitous "fucking machines". There is little new about these: one of the earliest such devices, the Sybian (advertised as a system designed to bring 'the ultimate in sexual gratification' - and definitely not to be confused with the altogether different Symbian system) prototyped in 1985.
What has changed since then is the overall finish to such machines: they come in more sizes, boast greater numbers of interesting shaped attachments, and are altogether that much more sophisticated than the steam-driven monstrosities of yesteryear. Or even today!
They'll set you back the best part of a couple of thousand pounds: but in every sense, the modern machine will give you rather more bangs for your buck.
Same difference for those into electro-stimulation. The vintage "violet wand" delivered electricity in neat pre-set amounts, which is a far cry from the finely controlled digital devices on sale nowadays.
Control comes in a variety of forms. Indeed, no sooner had the mobile phone arrived, than some folk realised that the vibrate function had "other uses": and for those who didn't quite fancy shoving a mobile down their knickers, a variety of phone-driven devices soon followed.
Again, the technology has boomed in the last decade. Newest arrivals are sound interfaced vibrators, which hook up to an iPod or similar device, and react to sound.
There are still plenty of products out there that don't quite, er, satisfy – but the ingenuity of geeks knows no bounds. For those with a sense of humour, there is the Arduino dildo shield – whose circuit board comes with its own penis inscribed.
For sophistication, there are frighteningly streamlined products like The Toy (Bluetooth enabled) – though allegedly, this does not always live up to the hype.
Or if you can't be bothered with all that gadgetry, just download the latest android app: the Dildroid, for instance, which does exactly what it says.
Remember guys: just because it's a vibrator doesn't mean there aren't a variety of ingenious ways you can use them too.