How digital audio ate itself and the music industry
Part One: The birth of a new science
Here comes the scums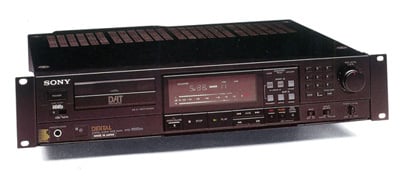 To give studios what they wanted, HHB modified Sony's DTC-1000ES and made a killing...
Also on show at DIE was a brand new tape-recording system from Sony, called RDAT, or rotating head digital audio tape. Primarily used as a two-channel mastering recorder – theoretically it could manage four tracks – RDAT was an innovative remodelling of earlier digital recording methods. However, its reliability, convenience and relative cost were an overnight sensation. And while its potential excited recording engineers and producers, it made the record companies very nervous.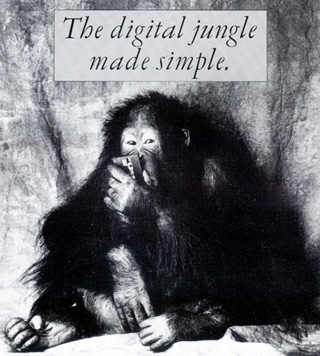 Record company lawyer contemplates new tape format?
Caption of the time for this DIE promo pic
The music industry was already nervous. It fretted that digital's ability to make faithful carbon copies of a recording would allow free duplication of sound recordings, and that the genie would slip out of the bottle.
With digital interfacing on CD players – that was intended for fancy amps and alternative D/A converters – now on digital tape recorders too, the music industry feared that the whole world was about to start to pirate CDs on RDAT machines. The fact that DAT recorders at the time were extremely expensive was rather overlooked.
So spoiler tactics were introduced, by manufacturers themselves, in the hope of pacifying the music industry, and its fear of the digital audio genie duplicating itself at will. DAT recorders were restricted to recording at 48kHz through the digital interface – the professional audio standard sample rate. Surely, that would scupper the CD pirates, with their consumer digital audio recordings at 44.1kHz?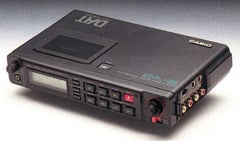 Among the more affordable DAT recorders
was the portable Casio DA-2
In addition, RDAT models were designed to only record analogue sources at 48kHz. Playback was also intended to be 48kHz-only, except for the 44.1kHz pre-recorded tapes that never gained popularity – if you understand Japanese, you can hear Ryuichi Sakamoto describe his Beauty album remix for RDAT duplication here. And if those hoops weren't enough to jump through, just for good measure, SCMS (serial copyright management system) known as "scums" was tacked on to the digital audio signal, a flagging mechanism that would prevent further digital copying from a clone recording.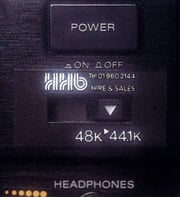 The sample rate switch was needed for
mainstream studio acceptance
So if you think DRM is a relatively new evil, we've been here before.
Despite these obstacles, HHB was happy to sell you a modded Sony DTC-1000ES that you could switch between sample rates when recording analogue sources. Inevitably, professional RDAT machines were established that did the same, with the cheaper models from the likes of Casio and Sony's own TCD-D3 DAT Walkman stuck on 48kHz recording.
Politics aside, just what was digital audio?
For all the issues in the analogue world that it was supposed to resolve, digital audio managed to create its own shortcomings along the way. Fear not, I'm not going to reopen the vinyl versus CD debate here. But perhaps the simplest way of looking at it is that digital audio imposes certain restrictions that are different to analogue. With analogue, if the recording was too quiet, it would get lost in tape hiss, and if it was too loud, then you'd get distortion. The latter might even sound good, if it was not too overcooked.