What should a sci-fi spaceship REALLY look like?
Saucers, flying caravans and floating oil rigs...
Eyes like saucers..
The fact that Arnold's original report of a crescent-shaped craft was misquoted by news reporters is hardly material. Saucers they were called, and it was saucers that came to dominate the imaginations of credulous 'contactees' and Hollywood special effects technicians alike.
The beauty of the saucer, of course, is that it's inexpensive to fake. As a million ill-advised amateurs with a Super 8 camera and a hubcap have proven over the years.
Probably the grandest and most memorable saucer of the 1950s sci-fi boom was the great glowing disc from The Day The Earth Stood Still (1951). Perhaps it was because it was just about the first 'alien ship' that anyone had ever seen (most pre-50s space travel movies involved outbound traffic) that it was so influential.
The menacing tripods from HG Wells's War Of The Worlds became, in their 1953 cinematic adaptation, floating ovals that resembled, if not a KP Disco, then at least a KP Skip.
Saucer-shaped ships went on to feature in movies ranging from the surprisingly thoughtful This Island Earth (1955) to the predictably daft Earth Versus The Flying Saucers (1956).
The conviction that the disc was the ideal shape for an interstellar runabout was so persuasive that even Earthmen had adopted the design by the release of Forbidden Planet (1956).

Dalek saucer
Although those timelessly evil pepperpots the Daleks went with a pleasingly retro saucer/conservatory hybrid for the 1966 Doctor Who feature film Daleks: Invasion Earth 2150 alien invasion movies had largely fallen out of style by end of the Sixties. But the Sixties were the decade of Star Trek. Fêted as a show that beneath its space-western skin had a certain scientific rigour, it also featured a dizzying variety of spacecraft configurations. Discs, cubes, Birds Of Prey; did any of them make any sense?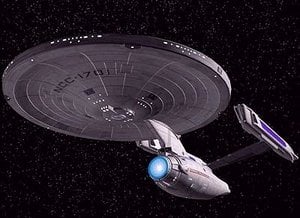 Star Trek's Enterprise: up and down should mean nothing...
Geoffrey Landis is a scientist at the NASA John Glenn Research Center, where he works on Mars missions and on developing advanced concepts and technology for future space missions. Helpfully, he's also a Nebula and Hugo award-winning sci-fi writer. If anyone knows about this stuff, he does:
"Probably the silliest design of all time is the Star Trek 'Enterprise'. It's obviously built with a clear notion of which way should be 'up' - but what does up or down mean in space? Why make the habitat section in the form of a saucer, anyway (except, perhaps, as homage to the old Kenneth-Arnold style UFO shape)? And, since the engines are so far off the centreline, why doesn't it only fly in loops?"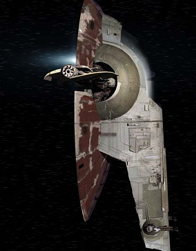 Slave 1, from Star Wars
Despite its geometric issues the Enterprise 'engine on a stick' approach was an influence on other TV sci-fi shows such as Blake's 7 and (later) Firefly.
The classic saucer wasn't dead though. The Millennium Falcon from epochal sci fi game-changer Star Wars is probably the single most beloved spacecraft in fiction, and it's at its heart a pimped-out saucer.
Probably the most interesting bit of spacecraft deign to come out of Star Wars was the Slave 1, personal runabout of bounty hunter Boba Fett. It's like nothing else in science fiction, with no clear 'up' or 'down' orientation and a shape that can only be described as an art deco doorhandle.
Even that was suspiciously smooth though: for mad, exuberant lack of streamlining the doomed Nostromo, from Ridley Scott's Alien was a solitary example of Lawrence Krauss's maxim. It was a spacecraft that didn't look anything like a saucer, or a needle, or an aeroplane. When connected to its payload it just looked like a run-down oil refinery that happened to be travelling at around the speed of light.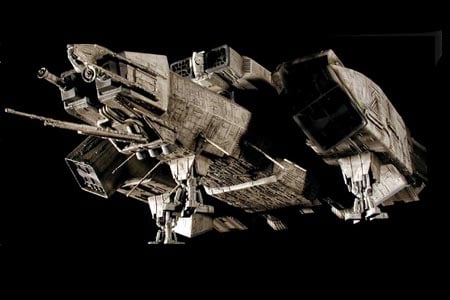 The Nostromo, from Alien