What should a sci-fi spaceship REALLY look like?
Saucers, flying caravans and floating oil rigs...
From solid discs to moving panels and flaps
Adding spoilers and fairly lights to the featureless flying discs of the first big screen saucer boom was still very much the order of the day though. The featureless flying saucer that brought Klaatu to Earth in The Day The Earth Stood Still had evolved by the release of Close Encounters Of The Third Kind (1977) into a vast, light-bedecked mothership.
The same notion informed 1985's Cocoon and to a certain extent the illuminated ballcock that finally takes ET home. Even Neil Blomkamp's District 9, from 2009, featured a spavined half-wrecked cousin of Spielberg's flying city of lights.
The curious evolutionary process that took us from smooth featureless flying discs to the rusted, weatherbeaten saucer hovering above District 9 isn't about to stop though. The current hot trend is for moving panels and flaps.
Even though no modern film maker has thought it wise to give alien invaders a ship with actual wings, the superfluous trim tab is abundantly in evidence in recent sci-fi actioners such as Skyline, Battle: Los Angeles and Cowboys & Aliens.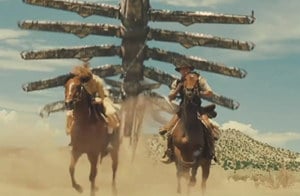 Cowboys and Aliens
The lumpy, bumpy, rocket-bedecked alien fighter craft in Battle: Los Angeles are a fine example of an effect that was simply not possible with computer animation even a few years ago.
When George Lucas showed us his grubby, complex X-Wing fighters in Star Wars he did it with models and sometimes full-scale mockups. It's an expensive and inflexible method, but in 1977 it was the only game in town.
Sail away...
By 2002, in the (almost) all-CGI Attack Of The Clones Lucas could show the villainous Count Dookoo making his escape in an interstellar clipper with a huge retractable sail that's markedly similar to some of the real designs being put forward for the next generation of interplanetary explorers.
Those solar galleons are still no more than wishful thinking for now. If we allow that (in the absence of any first-hand evidence of alien spacecraft) the advances in our image of alien craft are driven less by scientific research and more by the evolution of special effects technology where do we go now?
What's realistic in a world where even the 'real' spaceships are imaginary?
Geoffrey Landis again: "Of the 'realistic' ships designed by Hollywood, far and away the most realistic would be the 'Discovery One' from 2001: A Space Odyssey. The space colony from Babylon 5 would be another ship that looks like some engineering thought was given to its design, with spin-induced artificial gravity."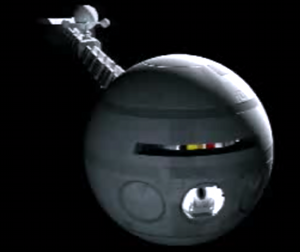 The Discovery One from 2001: A Space Odyssey
It's interesting that even in science fiction's worlds of pure imagination the Earthmen's ships are always that little more soberly-designed than those from other planets.
The funny thing is, it ought to be the other way around. The mile-wide steel pizzas of Independence Day look positively conservative compared to the laser-powered interstellar sailing ships of current scientific theory.