What should a sci-fi spaceship REALLY look like?
Saucers, flying caravans and floating oil rigs...
The future of sci-fi ships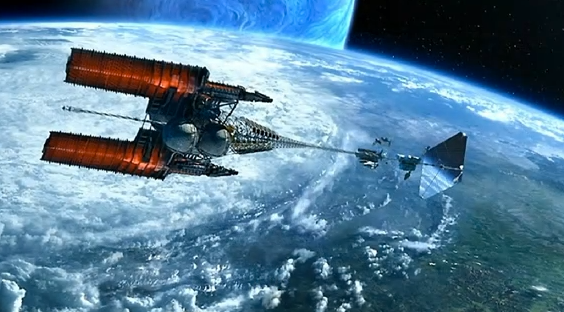 The ISV Venture Star
The ISV Venture Star, from James Cameron's sci fi epic Avatar, is probably the closest approximation of a realistic starship of the current cinema crop. Not least because it owes more than a little to the speculative but entirely serious Valkyrie antimatter-powered design dreamed up by Cameron's fellow Titanic scholar Charles Pellegrino.
Limited by what audiences will accept on one side and the current rendering power of a Silicon Graphics workstation on the other there's always bound to be a certain amount of repetition, even by the best filmmakers. There's a rotating space station and a streamlined space shuttle in George Pal's 1954 Conquest of Space that prefigured 2001 A Space Odyssey by some 15 years.
But, now that CGI technology can make more or less anything we can imagine, what will the imaginary spaceships of the far future look like in the near future? Prospective movie starship designers should take a note from Syd Mead:
"There is a sort of standardized geometry throughout the universe which conforms to chemical and molecular geometry. The six-sided hexa...configuration is a natural occurrence. A successful 'alien' spaceship would be geometrical with an organic envelope suggesting a shape-shifting morphology and a perfect linkage between the 'mechanical' and the 'organic."
Of course for real surrealism, maybe it's best not ask a designer: The 1980 Star Wars clone Battle Beyond The Stars dipped into a rich well of loopy imagination by running a competition for schoolchildren to send in their spacecraft designs, the maddest of which were mocked up and used as props in the film.
The result is some of the craziest interplanetary frog-ship and jellyfish raider architecture you might ever hope to see. Shame it's not a better film, really.
When it comes to otherworldly engineering, surely the loopier we can be, the better. What I think our special effects people need to do is, forget the audience's preconceptions, set aside the work of their predecessors, and do something truly daft. ®
* It still seems reasonable to the habitués of numerous right-wing messageboards who despair of our overcrowded prisons.
References