IBM wanted some advice...
Throughout Los Angeles, ComputerLand had a complete stranglehold on Apple//c sales. Some of the other chains switched to pushing the PCjr, and we started to get some inquiries, and even I sold a few despite my best efforts to push the //c. IBM had a spiff program too, and I won a PCjr of my own. My boss knew I had both a //c and a PCjr, so I was designated as the chain's expert on these units. My phone started ringing off the hook with sales inquiries from employees at the 5 other stores. I was working 70 or 80 hours a week with corporate customers and retail sales, and now I got stuck handling //c sales questions for other salesmen in our chain.
This was supposed to be a computer that took very little time or effort to sell, so I decided to write a memo on how to sell the machines, just to get these constant questions off my back.
This document is interesting reading today, for a variety of historical reasons. It shows an early attempt at desktop publishing. The draft pages were printed on my Epson dot matrix printer, which had a bad pin in the print head so the text is barely legible, and it printed so faintly that I always used boldface. Illustrations were Xeroxed from books, then glued in place on the printed page, and the final copies were Xeroxed like a fanzine. It is rather amusing to see what was considered a complex word processing document in 1984. It had italics and indented columns and everything!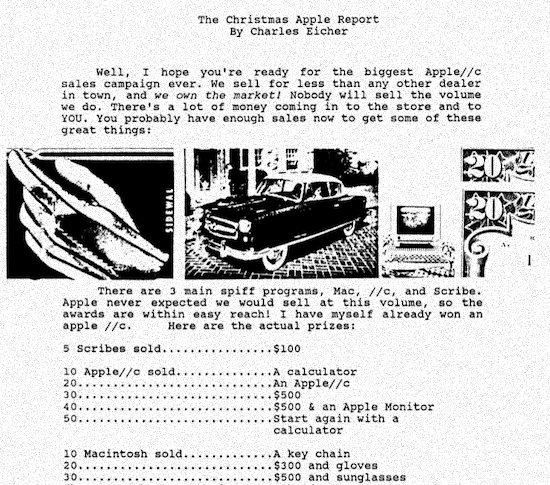 Indents, italics ... the works!
IBM heard about our massive Apple//c sales and called up our store's owners to find out how we did it. They wanted to know why the PCjr wasn't selling as well, and how to get a piece of the action. My boss asked me to work with IBM and I said absolutely no way was I going to help IBM, I was selling dozens of Apples and I didn't see how competition from the PCjr was going to make me any more money. My boss made it an order, if I wanted to continue to sell anything in their store, I better help them out. It was already the end of the first week of December, there was nothing IBM could do to catch up in the two remaining weeks before christmas, so I agreed. The owners said they'd come with a guest right at closing time on Friday evening.
The owners arrived at my locked-up empty store at the end of a long work week, and I was introduced to the VP of the IBM Personal Computer Division. There was no doubt I was dealing with the highest levels of IBM, and they took this problem quite seriously. I could only think of one thing to do, I asked the VP to walk in to the store and browse as if he were a customer, and I'd greet him and treat him the way we handled customers, then we'd compare the //c and PCjr sales experiences. I'd just spent all week delivering this sales pitch to hundreds of customers, and now I had a solo command performance in front of the IBM VP in an empty store.
The VP walked in and came up to the first sales kiosk, the PCjr. It was on and operational, but there was nothing on the screen. He stopped and looked at the unit, then moved on to the second, less favorably placed kiosk and looked at the //c, which was running a demo disk. He poked a few buttons, moved the mouse when prompted, as I watched him from a distance. Then I came up and said, "hello, may I help you?" and treated him like a customer. He said he was interested in comparing the two machines, so I gave him my best demos on both the machines.
And I do absolutely killer demos.