This article is more than 1 year old
Ex-NASA space shuttle to touch down on aircraft carrier
Enterprise to make Intrepid landing in 2012
In a move sure to delight aerospace fans everywhere, it has been announced that one of NASA's retired space shuttles will make a landing in the harbour of New York City next year – onto the deck of an aircraft carrier.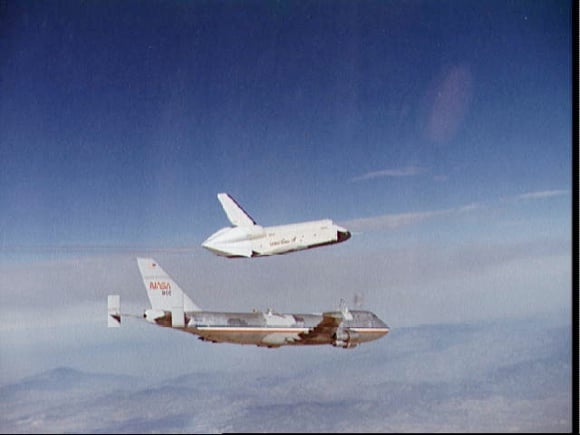 The only sort of launch Enterprise ever made.
The orbiter Enterprise will arrive in the harbour by barge, however, rather than plummeting out of the sky in a high-speed, high-angle glide descent as of old. And instead of screaming in to the carrier's deck at 230 mph, she'll be landed onto it from the barge by crane.
The carrier in question is the famous USS Intrepid, which has long been moored at New York's Pier 86 on the Hudson River as an aerospace museum.
"NASA is proud to transfer the title of space shuttle Enterprise to the Intrepid Sea, Air and Space Museum in New York City," said NASA boss Charles Bolden in tinned quotes announcing the plan. "The USS Intrepid had a rich history with NASA's mission, and Enterprise – the pathfinder for the Space Shuttle Program – belongs in this historic setting. Enterprise, along with the rest of our shuttle fleet, is a national treasure and it will help inspire the next generation of explorers as we begin our next chapter of space exploration."
Enterprise was never launched into space like the other orbiters: instead she was built as a test craft for trial flights and landings in the atmosphere, to confirm that a craft with the Shuttle's radical shape could indeed be successfully flown to a landing. The answer turned out to be that it could: but it was a hairy business. The orbiters, their wings and shape optimised for hypersonic descent through the upper atmosphere, handled extremely poorly in subsonic flight at low altitudes and glided only a bit better than a brick. Shuttle pilots were required to conduct 500 landings in special aircraft modified to fly like an orbiter before being allowed to try the real thing.
Enterprise will be kept in a special protective structure on Intrepid's flight deck at first, but it's planned in time to move her to a specially constructed building on shore next to the carrier's berth. ®