This article is more than 1 year old
Amazon Kindle Fire
Content consumption kit
Carousel, sell, sell
I'm not a fan of carousel-style UIs in any case – too much swiping to get to distant items – but having a sequence of attractive book cover portraits spoiled by a brash square app icon or, worse, a blank rectangle representing a PDF I'd side-loaded, put me right off. It all quickly looks a bit of a mess.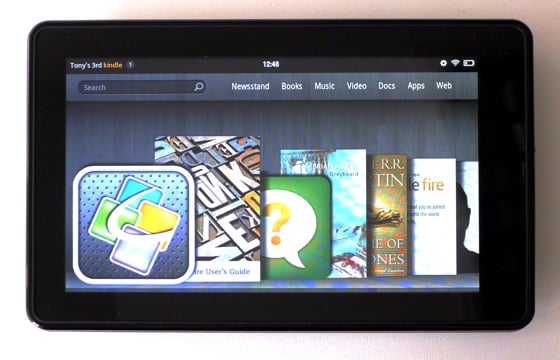 The Carousel runs smoothly but it's not an attractive UI
It's also too sensitive. Move your finger ever so slightly on the image of the item you want to open and the carousel will flip round to the next image. Yet other parts of the UI are less sensitive than I'd expect. The Fire's touchscreen is capacitive, but the UI often failed to register taps, or misjudged which one of two closely position items I was attempting to press.
Below the Carousel sits shelf after shelf of favourites, be they apps, books, movies or a mix of the content types the Fire can present. Again, the mix of icon sizes and styles – why can't some developers do PNG transparency properly? – makes for an unattractive interface, made more unappealing by the funereal burnt grey wood texture Amazon has chosen.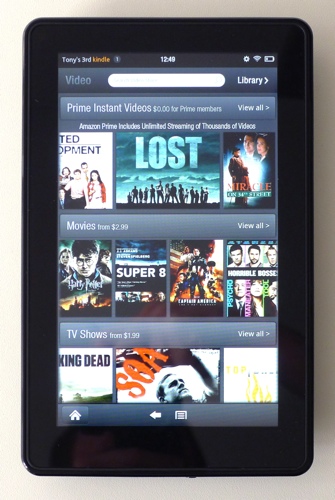 There's plenty of video content on offer - but only to Americans for now
All this makes sense for a device designed specifically for content consumption, but I found myself longing for the clarity and neat grid of iOS or even the native Android UI. Still, Amazon makes it easy to acquire more, segmenting all sections into Cloud – stuff you can download – and Device – stuff you have downloaded. Books aside, the store pages are integrated into the UI.
Amazon scores better for its Silk browser, which renders pages cleanly. Silk does a lot of page rendering at the server end, but I can't say it makes for a browsing speed demon. The progress bar slides right-ward very quickly, but some page elements still don't appear for a moment or two. It doesn't feel appreciably quicker than other, clientside-only browsers.