This article is more than 1 year old
Amazon Kindle Fire
Content consumption kit
Screen machine
The Fire's general performance likewise is good but not astonishing. The UI is smooth enough, and SD video playback fine, but there's noticeable lag while the screen contents reflow after you rotate the device.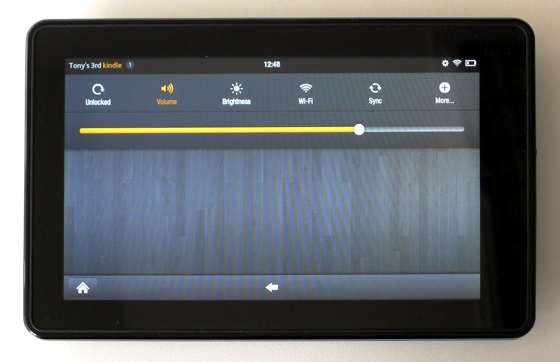 More Android-like UI elements lie within
You'll get a continuous video playback battery life of well over seven hours, if my test was anything to go by.
As you can see from the snaps, the Fire is dressed in black and sports no adornment. There's not even an Amazon logo on the front. Only the grey-on-grey branding and CE certification info on the back give any clue which way up it might be supposed to go. That and the lockscreen, which is always presented in portrait, no matter how you hold the Fire.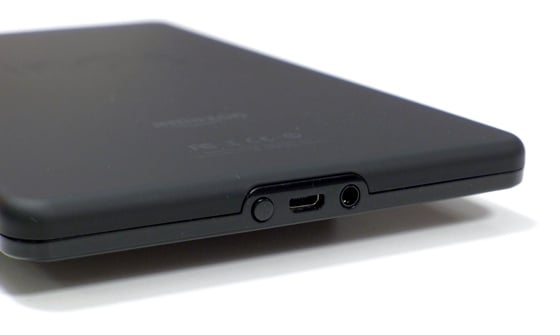 Micro USB and 3.5mm audio are the Fire's only ports
This tablet is designed like no other to be held any which way. There's not even an iPad-esque Home key to give a nod to a preferred orientation. Just pick it up and leave the accelerometers to present the image on the screen accordingly.
And a very nice screen it is too. Amazon has nudged the brightness down, but a tap of the status bar allows you to push it back up. The 1024 x 600 resolution is decent, and yields an iPad-beating pixel density of 169ppi. True, it's no "retina display", and you can see jaggies, but text is a lot easier on the eye than it is on the Apple product.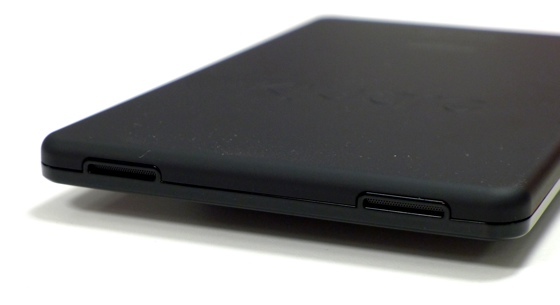 It's impossible not to block a speaker when you hold the Fire in landscape orientation
There are a pair of stereo speakers on one narrow side, a bad location: one grille gets covered when you hold the tablet in landscape mode to watch a video. There's a 3.5mm audio jack on the other opposite side, but that too is placed exactly where you'd naturally hold the tablet.
The audio port sits next to the Fire's micro USB connector and power key. And that's it for connectivity beyond the built in 2.4GHz Wi-Fi.