Our roving reporter snaps Tenerife sex dangle
Randy Brit tourist caught hanging from stairs
---
Our shock report earlier this week into the middle-aged Brit tourist who ended up dangling naked from the stairs of a Tenerife apartment block after a sex-based mishap prompted several readers to admit they were having trouble picturing just what a naked middle-aged Brit tourist dangling from the stairs of a Tenerife apartment block looks like.
This is slightly disturbing, and indicates you lot need to get out more. However, since we understand it may be hard for some readers to tear themselves away from their PCs, empty pizza boxes and half-drunk cups of coffee filled with cigarette butts to interface with the real world, we're happy to provide some enlightenment.
As Bootnotes regulars will be aware, our roving reporter has the uncanny knack of turning up just when the hottest news action is kicking off. By an amazing coincidence, he's just been in Tenerife on a fruitless quest to find the one bar which, legend has it, does not serve full English breakfasts while pumping out Sky Sports.
He didn't come back entirely empty-handed, though, as this sensational snap proves (click on the image for a bigger version):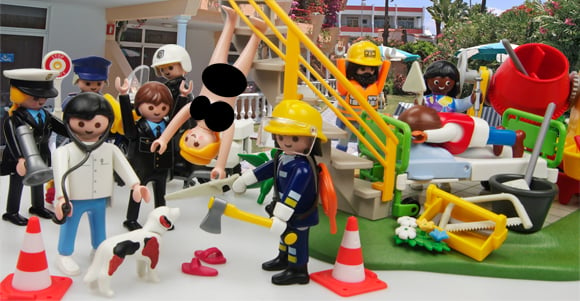 Yup, that's what a naked, post-coital middle-aged Brit tourist dangling from the stairs of a Tenerife apartment block looks like, as visibly-shocked emergency services operatives move to extricate her from her immodest predicament.
Although the image has been censored for El Reg's family audience, we can confirm the attendant paramedic's initial on-the-scene diagnosis: that the victim is not a natural blonde.
Unsurprisingly, everyone's a bit distracted by an eyeful of inverted shrubbery and jubbery, and has failed to notice the Miami transgender woman who's about to avail herself of a local builder's equipment to carry out an impromptu concrete arse augmentation.
We're delighted to report that the J-Lo wannabe who rather foolishly coughed 700 bucks for a bootyful of cement and tire sealant was saved by the timely intervention of the builder himself.
Seen here rushing from the traditional robust lunch and three-hour siesta, he's expressing his horror not at the backstreet butt-boost itself, but rather at the fact that the fake practitioner is about to use a 3:1 sharp sand to cement mix, whereas any bricklayer worth his salt knows that the correct ratio for reinforced backsides is 5:1 soft sand to cement, with just a dash of retardant. ®
Related stories
There's more of our miniature tomfoolery right here.