The Pringles-tube Robot Kamikaze Assassin Drone
So, you're an international master hit-man and there's this person you need to kill. Unfortunately, he or she is Very Important - in the head-of-state weight class - and is thus protected by extremely heavy security. Sometimes your target will make appearances on a predictable schedule: but on such occasions all rooftops within line of sight will be crawling with police counter-sniper teams, all suitable locations for a pre-positioned bomb will have been searched and sealed, and regiments of cops and bodyguards will be all over the place. Your trusty drum of home-made explosives or scope-sighted sniper rifle simply aren't going to cut it today.
Today, you need to get down to the Californian headquarters of famous crazytech firm Aerovironment, with a view to acquiring one of these: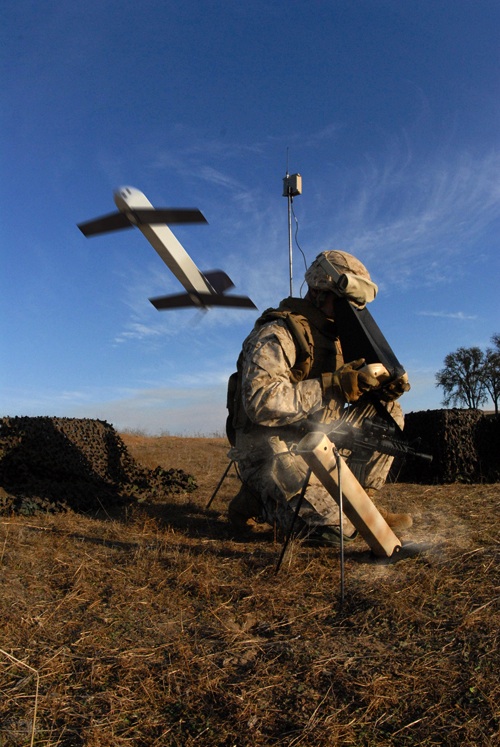 Now you can fit the CIA assassination drone fleet into a suitcase.
This little beauty is referred to by Aerovironment as the Switchblade. It was developed for the US military under the name "Project Anubis", and has variously been described as a "Tactical MAV [Micro Air Vehicle] for Time-Sensitive Fleeting Targets" or alternatively a "non-line-of-sight munition with man-in-the loop target ID with very low collateral damage".
A couple of Switchblades, stashed in their scarcely-bigger-than-a-Pringles-can launch tubes, plus controller and antenna kit, will all easily go into a backpack or a suitcase. After launch, the little aircraft can fly for up to 15 minutes on silent electric propulsion, easily enough to travel miles and get to a target location from well outside any realistic security cordon. Video from the little drone missile is relayed back to the controller (which can be at the launch site as pictured - or, with suitable comms relays, perhaps in a completely different country).
When the designated individual appears beneath, the operator selects him or her in the display and the Switchblade plummets down unerringly, detonating a small grenade or autocannon-shell sized warhead as it strikes. Anubis, guardian of the dead, has claimed another victim.
Until recently, Anubis/Switchblade was just another interesting development project: but now it is moving into operational service. Just last month, Aerovironment was pleased to announce that it had won a $4.9m contract for "rapid fielding of this capability to deployed combat forces".
Various other portable technologies of this sort - most noticeably, shoulder-fired antitank and antiaircraft missiles - have previously spread from military forces into the toolboxes of spooks and terrorists. It seems very plausible that in years to come, bodyguards and security types will have to worry about assassins packing Switchblade-type weapons, as well as the conventional menaces posed by snipers, gunmen in the crowd, bombers etc.