Maya have your attention, please: the tools of the trade
Howard points out that the term "3D" in production houses like Framestore most often refers to something rather different - the "3D in 2D" of animation movies, also used to insert 3D objects or characters into real-world 2D presentations. And that tide's by no means receding. Skills like these are very much in demand.
The majority of what Howard calls "traditional 3D work" at Framestore uses the software package Maya, with some XSI mixed in. Both owned by AutoDesk, these suites of software tools are used for creating computer-generated characters and objects, often in conjunction with conventionally filmed 2D. Even the scenery. "Look at the Harry Potter movies," says Prescott. "Hogwarts only goes up to about 7 foot. All the environments above that are generated."
Tools like these do more than just help animators draw the characters and scenery. XSI, for example, also known as SoftImage after the Avid subsidiary it was purchased from in 2008, has built in "inverse kinematics". This technology solves complicated equations behind the scenes to calculate, for example, the precise changes of angle at the thigh, the knee and the ankle to walk a character in a life-like way from A to B.
Towards the end of the last century work like this needed specialist workstations. Today, says Howard, "we'll go out and buy an HP or a Dell workstation, dual or quad core machine." The graphics card is important: in the last couple of years a lot of the computation has been pushed onto the GPU. AutoDesk recommends nVidia cards. "You can use a competitors' hardware," says Howard, "but AutoDesk don't guarantee it."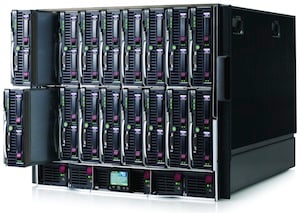 A meaty stack of HP ProLiant BL460 servers
Over in California, Ryan Granard, senior director of digital operations at Dreamworks Animation, tells a similar story on a larger scale. His outfit, best known for its Shrek franchise, has just delivered its latest feature-length animation movie, Puss in Boots, a work pipeline stretching back over more than five years. He's running an IT shop that's primarily HP, from workstations to servers, through the LAN and right out to the WAN. "Our artists - around 200 of them on Puss in Boots - are exclusively on HP Z800 workstations," he says.
"They're doing the same thing animators did 50 years ago, but on electronic drawing tablets - Cintiqs. They use electronic pens that work just as if they were drawing with ink, pen and pencil."
Once drawn, the images need to be animated, textured and lit, something the 8- or 12-core Z800s are powerful enough to do on a per frame basis without external help. But the assembly into the final film as released to distribution needs to be "farmed out".
"When it comes to rendering," says Granard, "that goes to very, very large render farms made up of thousands and thousands of servers doing batch processing." Built around HP ProLiant BL460 blade technology, there are five of these farms, geographically dispersed across the United States and India.
Effectively it's a cloud operation. As a final movie like Puss In Boot amounts to around 120TB of data, that's a lot of bits to ship around. "We use HP networking," says Granard, "and it's very fast and very robust. We run at 10Gbit at core and 1GBit out to the desktop. We get out to our cloud services through 10GBit pipes with lots of redundancy."
Sponsored: How to simplify data protection on Amazon Web Services