This article is more than 1 year old
Apple's founding contract to fetch up to $150,000
Sotheby's auctions off the ultimate fanboi holiday gift
Apple's founding contract is going on the auction block at Sotheby's in New York and is expected to fetch between $100,000 and $150,000.
"With everything in the news, this seems to be the time to do it," the auction house's books and manuscripts chief Richard Austin told Bloomberg.
The three-page contract was signed by The Two Steves™ – Jobs and Wozniak – along with lost-to-history cofounder Ronald Wayne on April Fools' Day 1976. Included in the lot – number 241, should you be interested in placing a bid – is the Statement of Withdrawal signed on April 12, which Wayne signed relinquishing his 10 per cent ownership.
For that princely sum, however, you'd receive somewhat damaged goods: Sotheby's notes that documents come with "small staple holes and crease in upper left corners."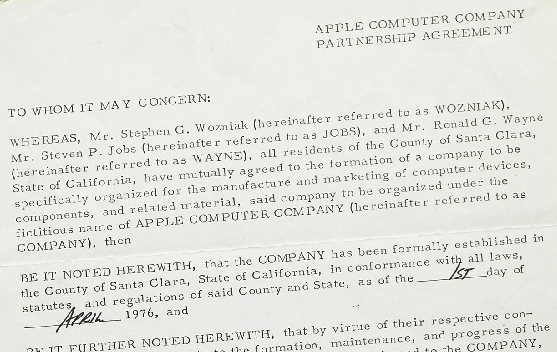 A mere $100,000 to $150,000, and the ultimate fanboi holiday gift can be yours
"This is a foundation document in terms of financial history, social history and technological history," said Austin, presumably in support of the lot's high expected price – exceeded only by a signed letter from George Washington, estimated to be worth $300,000 to $500,000, and a notebook of famed Bengali author and composer Rabindranath Tagore, estimated at $150,000 to $250,000.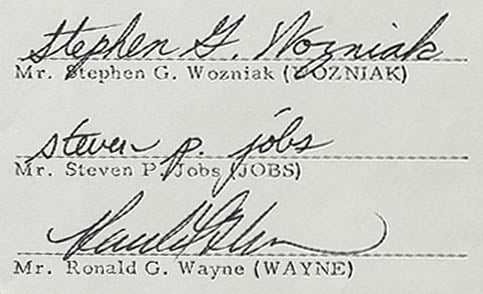 Ronald who?
Had Wayne kept his original 10 per cent stake in Apple, Job's biographer Walter Isaacson estimates, at the end of 2010 he would have been worth $2.6 billion – more than enough to snap up all 353 lots in Sotheby's December 13 auction. ®