Kobo's new e-book reader not only tells everyone what you're reading, but lets them share your margin notes too, just as Amazon once predicted its Kindle would do.
The UK launch of the Vox eReader early last week garnered little attention – a £170 Android tablet with a 7in screen to be sold by by WH Smith doesn't set the world on fire these days.
But in its attempt to stand out from the crowd, Kobo has integrated its software with Facebook, and has a "Kobo Pulse" so you can see the margin notes scrawled by others as well as sharing your opinions about the very page you're reading.

The pulse gets bigger and faster, and more distracting, when more people have commented.
Not only that but, if you let it, the reader software will let everyone know how long it is taking you to wade through the second half of War and Peace, as well as providing details of just when you prefer to curl up with a good book: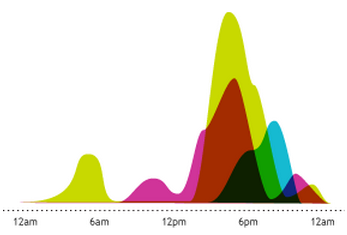 When you were reading, and what you were reading. The mind boggles...
Right now the social-networking integration is limited to the software on the Vox eReader. Kobo says it is working to get the features enabled on the other platforms supported by its software (the company claims you can access its content on "any open reading device"), but for the moment the Kobo Pulse isn't beating much.
Users limited to Kobo software have to content themselves with virtual badges and awards - your correspondent is the proud owner of a "Deep Thinker" badge, despite using the app for less than five minutes - and these too can be shared on Facebook with the tap of a button.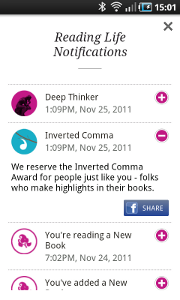 I'm deep, and I have a badge to prove it!
One can understand why Kobo would be so keen to differentiate its offerings, and the functionality seems well implemented, but we're struggling to understand under what circumstances it would be useful. One can imagine a school class sharing notes perhaps, or developers commenting on documentation? Book groups are - in our limited experience - mostly about social gossip and drinking alcohol, neither of which can usefully take place within the margins of an electronic print.
Amazon predicted just this kind of thing for the Kindle platform, though saw it being driven by the content owners rather than one's own social circle. So far Amazon hasn't delivered much on the idea, and took a few steps back with the removal of the Kindle's keyboard. Reading, like sex, is perhaps best discussed before and afterwards, rather than during, but we commend Kobo for trying it anyway. ®