This article is more than 1 year old
Samsung Galaxy Nexus Android smartphone
Ice Cream Sandwich, anyone?
Review The much-anticipated new Samsung Galaxy Nexus is the first phone to feature Android 4.0 Ice Cream Sandwich – or ICS if you're being very 'now' – the latest version of Google's mobile OS. It also includes one of Samsung's top of the range HD screens, a dual core processor and 1080p HD video recording – not too aspirational then.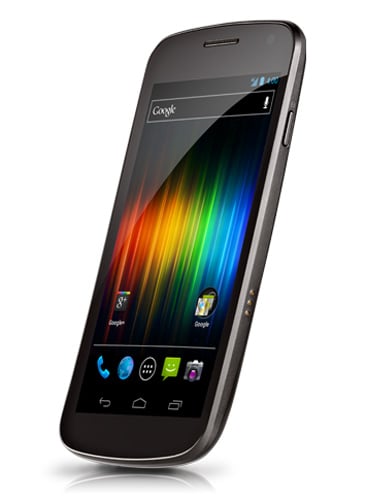 Googleness galore: Samsung's Galaxy Nexus
Pick it up and it's immediately clear that you're in the company of a quality phone. It's quite a handful at 136 x 68mm, but pleasingly slim at just 9mm. For the size, it's also surprisingly light at 135g, due largely to the all-plastic casing. The 4.65in capacitive touch screen takes up most of the front and virtually disappears when the phone powers down, giving it a sheen of glossy black glass.
And what a screen it is. It's a Super AMOLED HD number, with a 1280 x 720-pixel resolution, all crammed in at 316ppi. That's 0.3in bigger than Samsung's flagship Galaxy S II and a real advance on that phone's 800 x 480 resolution too. With a beautifully wide viewing angle, it's arguably the best display you'll see on any mobile phone today.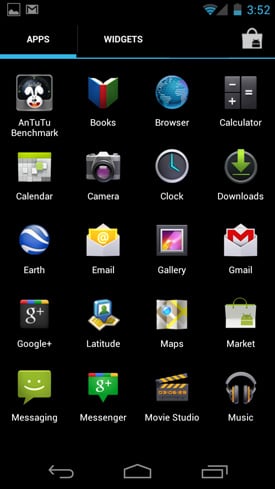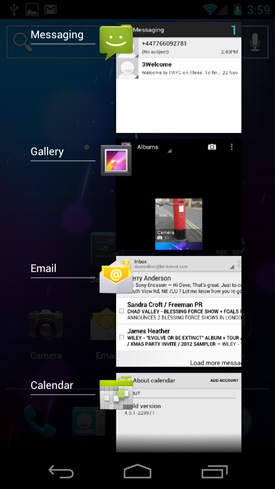 Apps menu and multitasking listing
At the bottom of the screen is a touch sensitive panel with just two of the standard four Android controls (home and back) plus a multitasking button that shows all your currently running apps as thumbnails. The buttons disappear when the screen's not in use, adding to that sleek black effect when the phone's in repose. The loss of search and app controls isn't too much of a hardship, since menu options now pop up in various apps and search is available as an on-screen widget.
From the start you're in no doubt that this is Ice Cream Sandwich. Where past updates over the last three years have added features and fixed glitches, this version offers a completely new look and feel, albeit one that bears some resemblance to the 3.0 Honeycomb version that's been appearing on tablets.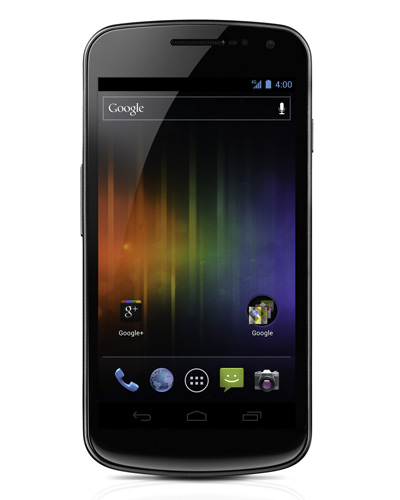 The high pixel density screen notches up a 720p resolution
It's more advanced however, with lots of cute little tweaks that not only look better, but help it to work more intuitively too – using a picture of your face to unlock the device for instance, and the action bar that appears in apps such as Google Maps, allowing you to access key functions without entering a menu first.