Obit Filmmaker Ken Russell, the controversial helmsman who brought the world Women in Love and Tommy, died yesterday aged 84.
Russell passed away in his sleep in hospital following a long illness. His son Alex Verney-Elliott said: "My father died peacefully. He had had a series of strokes. He died with a smile on his face."
Fellow director Michael Winner described Russell as "the most innovative director", who was also "a very nice person" and "very cheerful and very well-meaning".
Winner added: "His contribution to TV and cinema in this country is absolutely unique. He took it into areas it hadn't been before. They were riveting movies and TV because this strange mind was at work."
Glenda Jackson, who won an Oscar for her role in 1969's Women in Love, told the BBC it was "just wonderful to work with him and to work with him as often as I did".
She noted: "He created the kind of climate in which actors could do their job and I loved him dearly."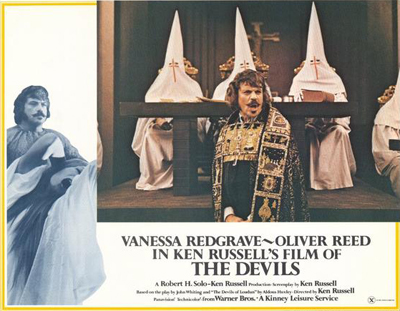 The fruit of Russell's "strange mind" included The Devils (1971), which suffered cuts at the hands of the UK censors "almost as long as the rest of the movie", according to Winner.
Russell went on to make The Boy Friend (1971) and Tommy (1975), but his unique filmmaking style declined in popularity with both audiences and funders. His last movie of note, gothic horror romp The Lair of the White Worm, has become something of a cult classic featuring the improbable pairing of Hugh Grant and Amanda Donohoe.
His later work included a 1993 TV adaptation of Lady Chatterley, and the critically-panned The Fall of the Louse of Usher (2002).
It's for films such as The Devils, however, that Russell will be best remembered, as well as Women in Love's famous nude wrestling scene between Oliver Reed and Alan Bates.
Reed claimed that Russell had "started to go crazy" on the set of the film, and said of the British cinema's enfant terrible: "Before that he was a sane, likeable TV director. Now he's an insane, likeable film director." ®