This article is more than 1 year old
Toyota unveils 'smartphone on four wheels'
Concept car silliness at Tokyo Motor Show
Toyota has introduced a concept car with touchscreen doors, digitally customizable exterior and interior, collision-avoidance tech, car-to-car networking, and more – and for reasons known only to the marketing mind, they call it the Fun-Vii.
"We thought it would be fun to put a smartphone on four wheels," said Toyota president Akio Toyoda when rolling out the car ahead of the upcoming Tokyo Motor Show, to be held at the Tokyo Big Sight exhibition center. "This idea led to the birth of the Fun-Vii."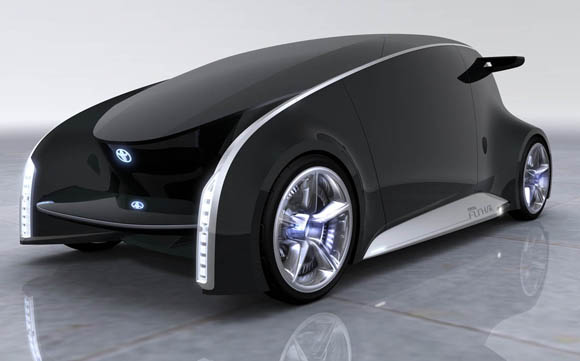 The Toyota Fun-Vii, coming soon to a future near you (click to enlarge)
In a press release accompanying the rollout, Toyota (not Toyoda) said the Fun-Vii "heralds a not-too-distant future where people, cars and society are linked."
Although the Toyota says that "the whole vehicle body can be used as a display space, with the body color and display content changeable at will," at the rollout only the Fun-Vii's doors were active with changing displays:
In addition to the exterior, Toyota says, the Fun-Vii's interior appearance can also be customized. Why? "To match the mood of the moment."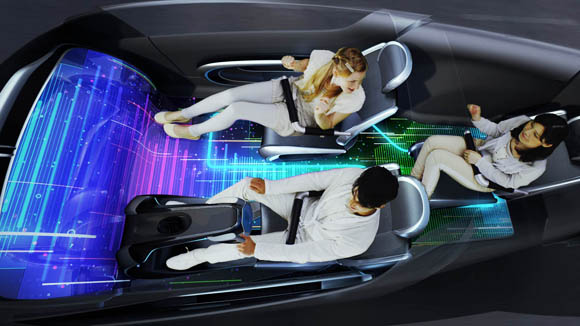 And what exactly would be the mood of this moment? (click to enlarge)
The three-passenger vehicle would come provide augmented-reality information on its windshield – or windscreen, should you appen to prefer right-hand drive – along with a "concierge" that – who? – would provide spoken navigation info and other driving guidance.
In the promo images supplied by Toyota, however, the concierge appears as not merely a spoken interface, but as a Princess Leia hologram popping out of R2D2's domed noggin – only with a supposedly futuristic chapeau, not the familiar cinnamon-bun hairdo.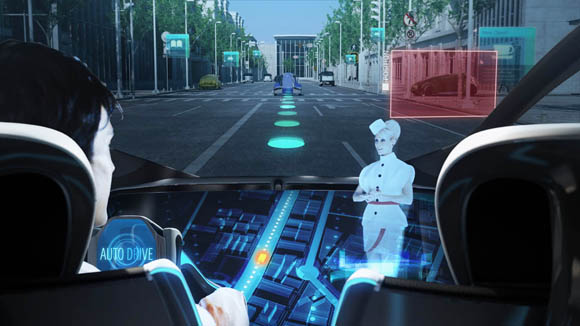 'Help me, Obi-Wan Toyoda. You're my only hope!' (click to enlarge)
The Fun-Vii's internal software could be updated remotely, its wireless network could be used to communicate with "friends who are driving nearby", and select functions could be accessed by smartphone – presumably not driving functions, should some of those aforementioned friends be feeling mischievous. ®