Fashion designer Dame Vivienne Westwood is handing over £1m of her nest egg to science, convinced that humans will become extinct.
Westwood said she was persuaded to part with so much of her wealth on being told that the human population would fall to 1 billion in 90 years.
"That just shocked me so much. It just made me feel weak, when you think of all these children trying to crawl to water, and what's going to happen to the human race," Westwood told the The Times [paywall].
She's handing over her cash to Cool Earth, a charity set up by Frank Field MP, and will run a website for 18 months called No Fun Being Extinct.
The dame was convinced to act by retired physicist Sir James Lovelock, but seems to have found the perfect audience. When it comes to apocalyptic, End Times predictions, Lovelock has form in this area. In a 2006 book, he predicted that Earth would catch "a morbid fever" reducing the human population to "a few breeding pairs" in the Arctic - which in the future would be the only patch of the planet temperate enough for humans to survive. In just thirty years, six billion will have been wiped out by floods and famine, he predicted last year.
It isn't shared by any serious scientists - or even quangos with a vested interest. The United Nations expects human population to start declining gently, as it has in the developed world, with the only question outstanding of how soon.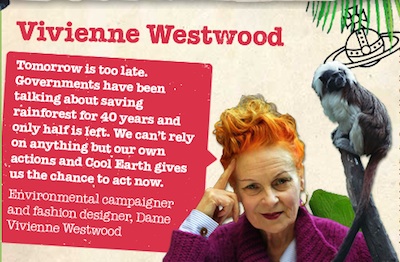 Dame Vivienne Westwood. That's her on the left.
Dame Viv is backing a campaign to preserve tropical rainforest. Rainforests cover one seventh of Earth's land mass and are a major engine in converting CO2 to oxygen. On her (see above) website Westwood states that "only half" of our rainforest is left.
But this isn't true. We'll soon have more rainforest than ever. While the edges of older rainforests are being cut down, providing a path from poverty to wealth for local citizens, newer rainforests are growing back in areas vacated by humans as they move to the cities. These are growing back at a furious rate. One estimate puts it at 50 new acres of tropical rainforest for every one acre of older rainforest that's cut down.
As the New York Times reported almost three years ago:
Within 15 years, abandoned land can contain trees more than 100 feet high. Within 20, a thick rain-forest canopy forms again. Here in the lush, misty hills, it is easy to see rain-forest destruction as part of a centuries-old cycle of human civilization and wilderness, in which each in turn is cleared and replaced by the other. The Mayans first cleared lands here that are now dense forest. The area around Gamboa, cleared when the Panama Canal was built, now looks to the untrained eye like the wildest of jungles.
That's a lot of rainforest. Perhaps it's too much - and we'll have to start a managing it. But either way you look at it, Dame Viv's cure is as mistaken as her diagnosis.
As for Professor Lovelock: shame on you. You really shouldn't go around worrying kindly old ladies like that. ®

Andrew warmingly welcomes your mail.