Backyard astronomer snaps Beta Pictoris dust disk
Kiwi claims 'first amateur' to catch exo-solar system
---
Stars on webcam In what is being hailed as a first, a New Zealand amateur backyard astronomer has produced images of the protoplanetary disk surrounding a star that's 63.4 light-years distant - on a webcam.
Beta Pictoris, a star that's dated at just 12 million years ago – a whippersnapper, really – is easy enough to capture, but its light is too strong for the very weak light reflected from its surrounding dust to show.
According to the photographer, Ralf Olsen, shots of the disk such as are taken by the Hubble Space Telescope "are usually made by physically blocking out the glare of Beta Pictoris itself within the optical path."
Olsen, on the other hand, had a much more mundane 25 cm telescope to work with, and a Philips ToUCam Pro webcam modified for long exposures.
The dust, clearly visible in the photograph once the star is removed, is though to represent a solar system in the very early stages of development – before big accretions like planets have formed.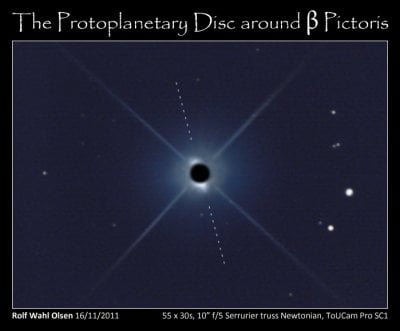 Having found an article at Harvard, Observation of the central part of the Beta Pictoris disk with an anti-blooming CCD, Olsen decided that it might be possible to capture the shot he wanted without access to the Hubble (or a large enough surface observatory).
"I followed the technique described in the paper above, which basically consists of imaging Beta and then taking another image of a similar reference star under the same conditions. The two images are subtracted from each other to eliminate the stellar glare, and the dust disc should then hopefully reveal itself", Olsen writes.
"The more images you can taken the clearer result you'll get. It's about being patient," he told Fairfax in New Zealand. "It takes hours."
And it appears to have worked: with a large collection of images of Beta Pictoris, plus Alpha Pictoris as the "reference" star, along with the free Registax tool and Photoshop's "difference" mode, revealed the planetary disk with the star subtracted.
For those that want the fine detail, or would like to have a crack at it themselves, as well as a larger view of the image, Olsen's blog is here. He believes he is the first amateur to capture an image of another solar system, and if he's right, he's quite entitled to feel "really special", as he writes. ®