This article is more than 1 year old
How digital audio ate itself ... and the music biz
Part Two: The attack of the clones
Special Report In the first part of this series, we looked at how digital audio emerged in the studio, going beyond its Compact Disc domestic debut. As Moore's law impacted on the cost of digital audio recording, studio techniques were emerging to add colour to this transparent medium – first in hardware, then in software. Digital signal processing went beyond the studio and landed on everybody's desktop. The creative and corrosive consequences of these developments are explored in this final part.
In the 1980s, as digital recording developed, the technology quickly began to lead a double life. In the studio, in its more orthodox guise as a replacement for analogue tape, it could capture whole performances with pristine clarity. Yet being digital, the means existed for this audio data to be recorded to RAM for instant playback and much, much more.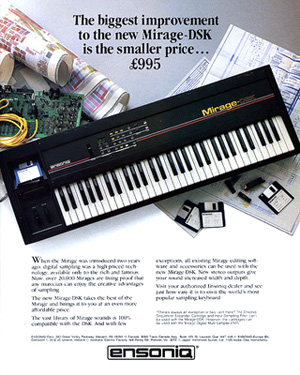 Akai built better samplers but the low-fi Mirage won on price
Admittedly, even a second or two on early samplers was an achievement, but once in the digital domain, this audio could be trimmed, reversed, looped, pitched and mapped across a keyboard. Notes from instruments that proved difficult to synthesise, such as convincing piano sounds, were sampled with gusto. Also, like the analogue Mellotron before it, sampling would be used to put choirs and string sections at your fingertips – traditionally expensive ensembles to hire and record for sessions. Undoubtedly, classical session musicians were the first to feel sampling's copycat consequences.
Sampling's capacity to deliver rhythmic, as well as melodic output from just about anything that made a noise provided such a wealth of creative possibilities that the technology became an instrument in its own right. But as those who sat behind pioneering Fairlight and Synclavier samplers knew, such creative freedom came with quite a hefty price tag. Trevor Horn's first Fairlight set him back £18,000 in 1980, equivalent to at least £60,000 today.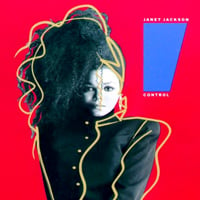 Control: made by affordable 8-bit sampling
By the mid-1980s, the Ensoniq Mirage-DSK sampling keyboard was a pioneer in terms of cost rather than quality. With its price settling at around £1000, the Mirage took sampling technology beyond sophisticated studios and into the hands songwriters and producers: think Janet Jackson's album Control (1986) with Jam and Lewis running the show.
You had to program the Mirage in HEX from a two-character display – it was slow and repetitive and, as a studio engineer, I even found myself dreaming HEX after a lengthy Mirage session. At its 8-bit/32kHz maximum resolution, the Mirage only had two seconds of sampling time. Certainly enough for vocal snippets, percussion sounds and, if you were deft at looping, you could sustain sampled instruments, as it had eight note polyphony too.
While low-fi sampling could be masked by studio effects and buried in the mix, the consumer – now sold on CD – wasn't going to be buying into the digital equivalent of a TDK D-90, they most likely already had a Walkman of sorts, perhaps even a Discman, but no domestic digital recorder. While musos could content themselves with RDAT and benefit from the Moore's law effect on the cost of sampling, it would take until 1992 for digital recording for the masses to be realised in competing formats from Sony and Philips. Yes indeed, there were still a few bends in the road to get to drag and drop digital duplication of today.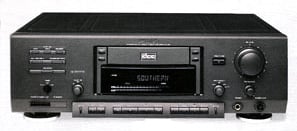 The Philips DCC-900 was well-specified but enormous
Philips had devised the Digital Compact Cassette (DCC) – a tape based digital recording format that offered backward compatibility with analogue cassettes. You could only replay the latter, but Dolby B and C was on-board and the analogue tracks would even be relayed to the digital output. Sound.
As for the digital recordings, DCC was capable of 18-bit resolution and supported 32kHz, 44.1kHz and 48kHz sampling rates. It also applied its own data reduction algorithm, PASC (Precision Adaptive Sub-band Coding) which works along similar lines to popular lossy data compression techniques used today.
The traditional wisdom here was all to do with masking. In short, if our hearing is unable to perceive certain musical signals, because there are louder parts playing at the same time that dominate, then don't bother encoding the content that is masked by the more in yer face content.