Seagate has speeded up its Momentus XT flash/disk hybrid, making it nearly 70 per cent faster than the existing model.
The Momentus XT, a 2.5-inch, solid state hybrid drive (SSHD), had a 4GB NAND cache and Adaptive Memory technology to track often-used files and move them into flash, thus facilitating faster O/S boot and application loads.
Seagate has increased the drive's maximum capacity from 500GB to 750GB and given the 750GB product a 6Gbit/s SATA interface and 8GB of single level cell NAND. The previous 250GB and 320GB products have been dropped but the 500GB one remains, with its 4GB of flash and 3Gbit/s SATA interface.
Seagate says the 750GB gen 2 Momentus is faster than the previous XT because it has something called FAST factor technology as well as double the NAND capacity and twice the SATA interface speed of the gen 1 Momentus XT. Seagate claims FAST Factor features "give you the instant-on response of solid state memory and the extremely large capacity of a hard drive". The product works alongside the Adaptive Memory technology.
The full SDD-like performance is backed up by a chart Seagate has provided, showing O/S boot and app load times. This compares the boot and app load performance using an Intel X25 DDS, the gen 2 Momentus XT, a MacBook Air and a 5400 rpm hard drive system. There were six applications loaded, including PowerPoint and iTunes.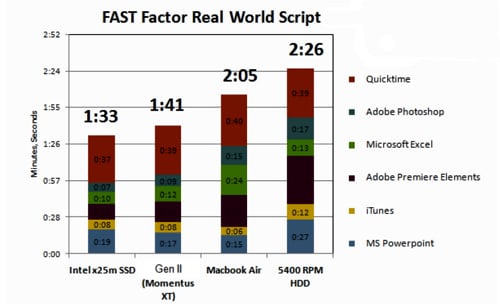 Seagate Moments XT gen 2 hybrid disk performance
A notebook equipped with the X25 was fastest at 1 minute 33 seconds. Using a 5400rpm hard drive dropped the time to 2 minutes 26 seconds. The MacBook Air was appreciably faster at 2 minutes and 5 seconds. But the notebook fitted with the second generation Momentus XT was faster than that and only a little slower than the X25 at 1 minute 41 seconds.
FAST Factor
How does FAST Factor work? Seagate says FAST stands for flash-assisted storage technology, and that "FAST Factor boot technology will deliver the fastest boot possible, whether you boot your system once a day or once a week". That suggests the boot files are permanently loaded into the flash cache.
A Seagate spokesperson confirmed this: "The FAST Factor Boot feature will pin the pertinent boot files into a location on the NAND that does not fall off [if] it is not frequently used." Seagate also states: "A clean operating system install will ensure you are allowing your FAST boot engine to capture your operating system boot files."
We asked whether FAST Factor arranges for O/S boot and app load to be started from flash and continued from disk once the disk heads are reading the the O/S boot and then the app load files. The response was: "That depends on what files have been placed in the NAND but this could be one scenario given the remainder of the files were easy for the drive to get to and didn't need to be place in the NAND."
The company also says: "The Momentus XT drive utilises a FAST Factor write feature that requires less time to save your files and reduces power consumption." This suggests writes go into flash and then a write complete is signalled before the writes are put on this disk.
Seagate added that incoming writes are not staged in flash.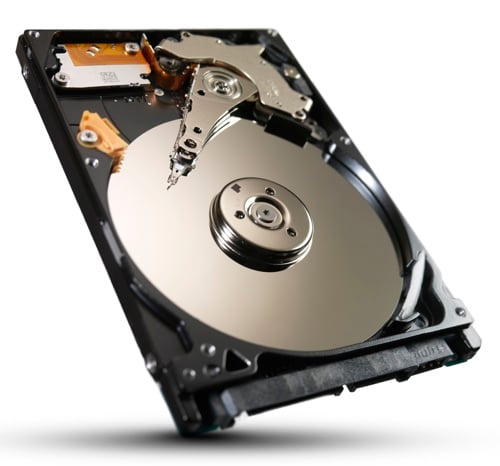 The gen 2 Momentus XT
Seagate documentation also says that FAST Factor includes: "a management feature that provides seamless integration between hardware, firmware and high-speed NAND flash while maintaining data integrity under all conditions—any system, any OS and with any driver."
The Seagate spokesperson provided some more details:
The "brains" of a Solid State Hybrid drive are 100 per cent internal to the drive.
• It's a Seagate proprietary design.
• No special commands are required from the host – works with any SATA driver.
• Seamless integration with Seagate proprietary hardware and firmware.
• FAST flash subsystem is optimised for hybrid design.
• All data movement is internal – no stealing CPU cycles tying up the bus with moving data.
• No risk of losing data or Screen Of Death due to driver issue.
• Internal flash management system monitors the health of the flash and maintains data integrity under all conditions.
• It's a robust solution that mirrors all data on disk.
So... we still don't know which Seagate secret sauce speeds up writes.
We expect that drive hybridisation will spread as WD is working on the technology. Also the concept of a single platter thin drive with NAND cache looks a good bet for thin notebook use. What's not to like, with near-SSD performance and better-than-SSD capacity?
The updated Momentus XT is shipping in volume and available at selected online retailers. The 750GB model has a suggested retail price of $189.00. ®