The "debt storm" currently circling above the Eurozone is to blame for the gloomy state of the British economy, said the Chancellor of the Exchequer George Osborne, who delivered his autumn statement to the House of Commons today.
"Borrowing is falling, debt will come down, it's not happening as quickly as we wished... but we are going to see Britain through the debt storm," he said.
However, the Office for Budget Responsibility said that it was not predicting a recession in Britain, despite the fact that it has revised down growth prospects with GDP set at 0.9 per cent for the year, and drilled that figure down even further to 0.7 per cent in 2012.
The OBR expects the economy to recover to 3 per cent growth in 2015, Osborne told MPs.
The chancellor added that the Eurozone "needs to find a way through the current crisis". The OBR warned of a much worse outcome for the UK with Osborne adding that "it may prove hard for us to avoid one [a recession] here in the UK" if the situation in Europe doesn't improve.
Osborne told the House that the structural deficit will fall from 4.6 per cent of GDP to 0.5 per cent in the next five years. He noted, as reported yesterday, that more cuts were coming to increase spending on infrastructure and education.
Public sector employees will see their pay rise by just 1 per cent for the two years after the pay freeze is over, Osborne said. He cast the £5bn cuts planned for Whitehall to help pay for the government's plans to invest in the country's ageing infrastructure as "British savings for British jobs".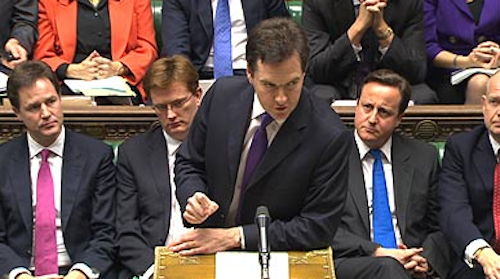 George Osborne, centre, ditches his usual thin-lipped assassin look for Parliament today
The chancellor also announced an "urban broadband fund" that would create 10 "super-connected cities" in the UK. Osborne said that the government had an agreement with two pension funds to unlock £20bn of investment for the National Infrastructure Plan.
"Leadership for tough times, that's what we offer," the chancellor doggedly said as he ended his statement to the House.
Shadow chancellor Ed Balls quickly hit back at Osborne's statement.
"Let's be clear what the OBR has told us today. Growth flat lining, unemployment rising, well over £100bn more borrowing that the chancellor planned a year ago," he said. "As a result his economic and fiscal strategy is in tatters... The verdict is in. Plan A has failed, and it has failed colossally."
Ahead of the chancellor's statement, the Treasury and the Cabinet Office leaked to the press a wide amount of what the government clearly viewed as "feel good" announcements that would be inevitably buried deep under the news that the British economy remains stuck in a hole.
The Register was told on Monday that medical research and digital technology would get a cash injection from the chancellor, with Silicon Roundabout leading the way in the hope of achieving Prime Minister David Cameron's ambition of creating a new Skype or Apple.
We also learned of a whole host of plans involving opening up more of taxpayer's data to the private sector in an effort to kickstart the economy by generating jobs in that sector.
Here's the meat-and-potato detail, direct from the Cabinet Office, about those plans.
Health data:
The NHS is announcing new data release services which will help healthcare research industry and academia to develop new products and services. This will aid advances in medical diagnosis and treatment.
The UK is uniquely placed as being one of the few countries to have a universal cradle to grave health system. It can boast some of the most detailed, anonymised information on patients, the UK has the potential to lead the world as a location for data-enabled health research. In addition, the NHS will also release much more detailed prescribing data to support health research and businesses working in health analytics, electronic data management systems and analytical software, and a range of other health-related digital technologies and applications.
These measures will encourage innovation and investment in UK life sciences. Pharmaceutical firms increasingly rely on large, robust datasets to identify which medicines work where and why; access to linked and prescribing data would position the UK as a data health laboratory – unique in the world. Consultation with industry suggests that easier access to linked data could increase the amount of pharmaceutical R&D investment by UK based pharmaceutical firms.
Access to linked primary and secondary care datasets is vital to understand the efficacy and cost-effectiveness of healthcare interventions (eg, drugs, devices, procedures) and systems. While some datasets are already linked securely inside the NHS to generate patient level insight (eg, mortality rates) and there are established precedents at a local/regional level, these new services will enable industry to access anonymised linked data at a national scale. This insight will also support more effective commissioning within the NHS, helping to drive up productivity and improve outcomes for patients.
Transport data:
Data will be released by next spring showing the current running of trains and planned or real-time information at all 350,000 bus stops in Great Britain.
DfT will work with the Network Rail and the transport industry to make real-time running data available from (April 2012). DfT will also work with Traveline to release the 'Next Buses API' of planned and real-time information at 350,000 GB bus stops (April 2012).
DfT will work with local highway authorities to release (at least monthly) information that they hold on local roads and associated road works (by end of 2012). This will ensure almost full coverage of roads across England by adding to that which it began to release (weekly) on the Strategic Road Network at the end of October 2011.
This data, to be released for free, will mean that more app developers will be able to release apps on smart phones and the web.
Making this data available will mean that it can be used by companies to manage a workforce of public transport commuters better and also will help with planning for local authorities.
The fastest growing channel of information to rail and bus passengers is via their smartphones through websites and apps. These services are often provided by third party developers, often SMEs. This measure will lead to expansion in the technology sector and small businesses.
Better information about roads will mean that people will be able to make more efficient decisions about car journeys and could help with congestion. The economic cost of inefficient travel and transport is high, costing small and large businesses alike in lost productivity. It can be mitigated by open access to real time timetabling data.
Weather and house price data:
The Met Office will, from Tuesday for the first time, release a large proportion of the Public Weather Service weather forecast and real-time observations as data in a free and open format – representing the largest volume of high quality weather data and information made available by a national meteorological organisation anywhere in the world.
From March 2012 Land Registry will make available "Price Paid information" showing all residential property sales in England and Wales at address level. This will be downloadable for re-use, in a re-useable format under the OGL, and updated monthly.
This will support the growth of high-value data businesses and make access to data easier for start-ups. This is likely to have an impact on a whole range of businesses and their ability to offer current services in a more competitive way as well as new and existing businesses' ability to innovate.
The Met Office will, for the first time, release under the Open Government Licence (OGL) as machine-readable and machine-processable for unrestricted use, a large proportion of the Public Weather Service weather forecast and real-time observations as data, enabling them to be used by application developers.
More widely we are creating a Data Strategy Board made up of data users, which will be responsible for the public sector contracts for the PDG. It will also have up to £7m over the next three years to spend on making more data freely available.
Deputy PM Nick Clegg told the BBC ahead of Osborne's gloomy statement that the chancellor's plans for the economy would keep the UK "safe from the debt storm and the market turmoil in Europe and elsewhere".
He claimed the mini budget would support the poorest people in the country.
Clegg added that the autumn statement would "set out a plan to get building, to build the homes, the houses, the roads, the broadband infrastructure we need for a strong and prosperous Britain". ®