Oz robo-soldiers in US Marines' firing line
Take out the dummy on the Segway, sarge!
---
Sydney based robotics manufacturer Marathon Targets has delivered its first cyber troops to the US Marine Corp as part of a multi-million dollar contract.
Marathon Targets won the $AU57 million contract last year with the US Marine Corps Systems Command to trial its advanced robot technology.
Following certification, eight Australian designed and built robots have now been shipped off to Quantico in Virginia to train soldiers in live firing exercises.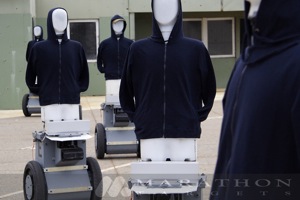 First, we take Marrickville, then ...
The free-ranging, armour-plated and networked robots are programmed to mimic human behaviour to provide a realistic, interactive training scenario for marksmen.
The robots have been assessed and endorsed by the US Foreign Comparative Testing (FCT) program, which tests market-ready technologies with potential to support US defense requirements.
"As a result of the FCT endorsement, Marathon Targets not only has a green light to sell its robots to the US Marine Corps but can also sell to other US agencies with an interest in marksmanship training, including the military, special forces and law enforcement groups," Deputy Premier and Minister for Trade and Investment Andrew Stoner said.
The start-up has received support from the NSW Department of Trade and Investment through its Global Growth Program and Australian Technology Showcase, and won the NSW Government's $AU50,000 innovation award at Tech23 last year which assisted its expansion into a new Marrickville factory headquarters
Marathon Targets has developed a two-wheeled version of its robots called the T20 as well as a four-wheeled version called the T40 for rougher off-road terrain. ®