Visual contact
The Android web browser has also been given a good going over. It has certainly gained a bucket load of extra speed and, at long last, an option to render web pages in their desktop format by default. Pages can now also be saved for off-line reading directly from the browser menu.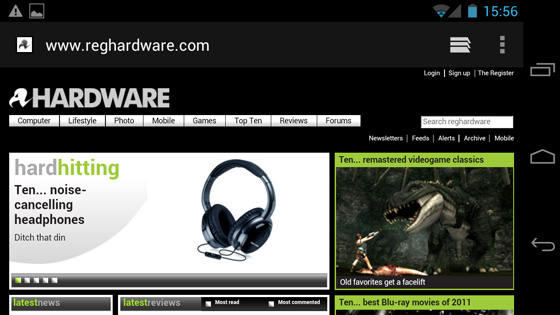 No Flash on the browser as yet
Navigate to the camera app and you move from the Gingerbread stone age to the Ice Cream Sandwich 21st century. The new interface is much improved and comes with a built-in panorama mode that works surprisingly well. Tap the screen while shooting a video and the camera takes a still capture which is a feature I can see coming in handy.
Outside of Gmail and Google+ ICS is still rather weak on the e-mail and social network front. The e-mail client has been warmed over but every time I tried to open the combined inbox, the app crashed. Also, my Samsung Galaxy Nexus handset wouldn't let me add my Facebook account, so I can't tell you how well that integrates into the new contacts app called People.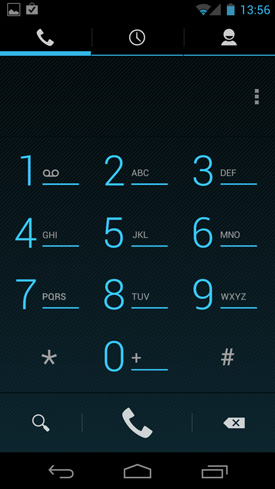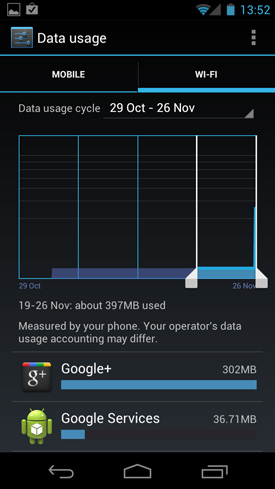 The dialler is a bit humdrum, but data usage is on-board now
When it comes to wholly new features there are a couple of interesting additions to the Android playbook. Pride of place goes to Face Unlock which uses facial recognition to unlock the handset. Impressively, the system never failed to recognise me as the authorised user but equally was never fooled by anyone else's fizog or even by a large picture of yours truly.
Android Beam and Wi-Fi Direct are a couple of systems designed to let Android users share their goodies peer-to-peer either between NFC-enabled handsets or over a Wi-Fi connection. I've yet to be convinced about all this NFC malarkey but Wi-Fi Direct certainly has its uses.
Verdict
With Ice Cream Sandwich, Android moves its game on by the greatest degree yet. In terms of look and feel it is now hard on the heels of iOS and well ahead of WinPho 7.5 and BlackBerry 7. The new look will also raise the question of do we need third-party overlays anymore? I'd argue 4.0 has made them redundant. The web browser, keyboard, camera app and media players have all been given a thorough brush up and are now not only nicer to look at but faster and easier to use. My only complaint is that migratory menu button and nailed-on Google search widget but I suspect I'll learn to live with both. ®
Thanks to O2 for the loan of the Samsung Galaxy Nexus handset.
More Smartphone Reviews

Samsung
Galaxy Nexus
Nokia
Lumia 800
Ten… Androids
to outshine
the iPhone 4S
RIM
BlackBerry
Bold 9900
Apple
iPhone 4S
Similar topics