A squishy robot based on a starfish has pushed the frontiers of robotic movement by proving bots can wriggle.
Built out of elastomers and powered by pneumatics, the soft robot successfully squeezed itself through a 2cm gap in a test by the Harvard engineers who created it.
The boffins have cunningly worked air chambers into the robot's soft skin which inflate like balloons to power the plastic muscles: the legs curl and expand to inch the air-filled pseudo-sea-creature along.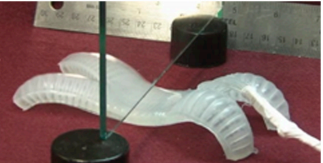 The starfish-inspired robot wriggles under a sheet of glass
The soft parts of the robot allow it to wriggle in a way that rigid structures can't, but the basic mechanism is simple. The engineers revealed in a published article how simple actuators - the engines of the device - work together to produce the complex movements:
It uses no sensors, only five actuators, and a simple pneumatic valving system that operates at low pressures (< 10 psi). A combination of crawling and undulation gaits allowed this robot to navigate a difficult obstacle.
Another advantage of squishy bots over rigid or metallic ones is that they are less prone to breaking and are more resistant to damage from falls, though their soft-walled air chambers face a greater risk of punctures.
The paper Multigait soft robot, contributed by George M. Whitesides, is published in the journal PNAS. ®