James Bond thesp Daniel Craig has savaged the highly talented and decorative Kardashian clan, branding the celebutard minx pack "fu*king idiots".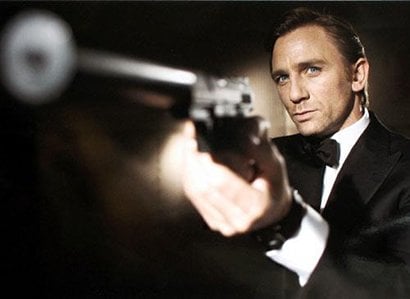 'Stay away from my fu*king wedding'
While giving forth on the matter of privacy in an interview for GQ Magazine, Craig began: "It's not about being afraid to be public with your emotions or about who you are and what you stand for. But if you sell it off it's gone.
"You can't buy it back – you can't buy your privacy back. 'Ooh I want to be alone.' Fu*k you. We've been in your living room. We were at your birth. You filmed it for us and showed us the placenta and now you want some privacy?"
Warming to the theme, 007, continued: "Look at the Kardashians, they're worth millions. I don't think they were that badly off to begin with but now look at them. You see that and you think 'what, you mean all I have to do is behave like a fu*king idiot on television and then you'll pay me millions'."
He concluded: "I'm not judging it – well, I am obviously."
Well yes, just a bit. When it comes to privacy, Craig walks it like he talks it. Earlier this year, he tied the knot with Rachel Weisz behind firmly closed doors "because we didn't want it fu*ked up".
If you want more of sweary Bond and his entertaining analysis of the fame game, the January 2012 issue of GQ hits newsstands tomorrow. ®
Similar topics