This article is more than 1 year old
ESA tests greenhouse gas-measuring lasers
Green beams light up the skies over the Canaries
Residents of the Canaries could be forgiven for thinking they were under attack from an alien race over the last two weeks, as the islands played host to a European Space Agency test of a laser tracking system for greenhouse gases.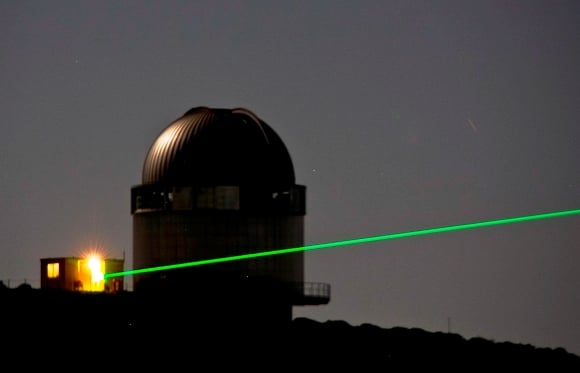 Infrared laser experiment for studying greenhouse gases. Credit: ESA
The agency wants to try to use shortwave infrared laser pulses fired between satellites to 'sense' the atmosphere, but the theory behind the plan had to be looked into here on Earth first.
Of course, the actual infrared beam is invisible to the naked eye, but the agency used (appropriately) a green guidance laser to record atmospheric turbulence alongside the infrared beams, which lit up the skies over the islands.
The experiment to test the concept of using "infrared differential absorption spectroscopy" was carried out by firing lasers from one facility on La Palma to another on Tenerife over the course of a fortnight.
"At the right wavelength, the atmospheric molecules affect the beam. This information can then be used to calculate concentrations of trace gases, and potentially wind," the agency explained. ®