This article is more than 1 year old
HP shows off filer and dedupe monsters in Vienna
Powerful combos of scale-out hardware and filer software
HP used its Discover event in Vienna to both broaden and deepen its core storage portfolio, strengthening its file and deduplication offerings to compete better with EMC and NetApp.
The headlines are:
High-availability B6200 StoreOnce Backup System deduplicating backup to disk system for enterprises;
Data Protector backup product gets StoreOnce deduplication integrated; and
X5000 Windows-based NAS released for mid-sized business.
The company has significantly strengthened both its filer and deduplication offerings and is emphasising scale-out hardware capabilities to cover a wider range of customer needs.
B6200 enterprise deduplicating backup product
The big news is the promotion of StoreOnce to the enterprise big time from the mid-range area with the B6200 product. StoreOnce is an HP Labs-developed deduplication technology.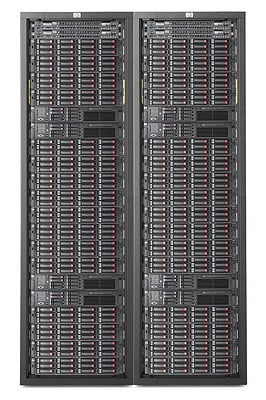 HP B6200- deduplicating array
The B6200, a virtual tape library or straight backup to disk target, has from 48TB to 768TB of raw capacity (32TB – 512TB usable), using 2TB SAS drives, which HP contrasts to the 384TB of EMC Data Domain's 890, and has a scale-out architecture supporting up to eight nodes. There is both Ethernet and Fibre Channel host connectivity.
It can deliver a claimed 20:1 deduplication ratio or even higher but, of course, your mileage may vary. HP says "this lowers storage capacity requirements by up to 95 per cent and delivers rapid data recovery". It says its effective storage capacity is up to 10PB.
It can back up data 3.5 times faster than Data Domain and restore data at a 28TB/hour rate, claimed to be three times faster than Data Domain.
EMC staffer Mark Twomey said: "HP's StoreOnce numbers are for an 8-node system with four dedupe pools versus the two node [Data Domain 890] GDA with one global dedupe pool." Let competition be joined.
B6200 features include PredictiveAcceleration that uses "intelligent container matching technologies to accelerate data analysis." A Rapid Restore feature provides "an optimised data layout that enables files to be restored at 100 per cent of backup throughput, up to six times faster than alternative," according to an Evaluator Group report.
It also has Adaptive Micro-Chunking with which "the industry's most efficient deduplication engine ... dynamically adjusts the size of matched data blocks averaging 4 kilobytes."
The B6200 has an autonomic restart feature as part of its high availability functionality, with HP pointing out that other deduplication systems require a manual reboot if they fail, which can take longer, and requires more admin resource.
The high availability features include built-in hardware redundancy with dual path disk arrays, a dual path internal network, dual power supplies, and hardware-based RAID 6. There is also dual fabric support via bonded Ethernet connections and dual Fibre Channel ports per node.
It supports more remote sites than Data Domain's 890; its maximum remote site fan-in is 384. HP says the Data Domain GDA's maximum remote fan-in is 270, 40 per cent less.
We could ask where all this leaves Sepaton, whose S2100 product HP OEMs as its high-end deduplication product – and which has, according to the Taneja Group, the only database-optimised deduplication in the industry. It seems fairly clear that the B6200 and the direction of StoreOnce could threaten Sepaton's position in HP's portfolio. Storage supremo David Scott said little to disabuse us of this thought.